They say a lady never reveals her age. It's a rule Laverne Cox lives by. "I don't discuss my age," she says playfully, "except to say I'm officially over 21."
Though guarded on this particular point, Cox is largely eager to share her story, to be out and proud as one of the limelight's most prominent transgender performers. But don't mistake her embrace of the spotlight as some sort of entertainer's arrogance. Cox, now appearing on the blazing hot Orange Is the New Black, has worked hard to get where she is. It's the latest from writer/producer Jenji Kohan who brought us Showtime's award-winning Weeds. Based on Piper Kerman's prison memoir of the same name, Orange Is the New Black continues Weeds' exploration of a plucking a relatively privileged woman from her upstanding existence and dropping her on the wrong side of the law.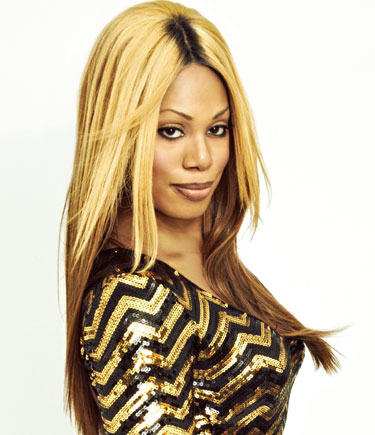 Laverne Cox
This time, Piper Chapman (Taylor Schilling) leaves Manhattan and her fiancé (Jason Biggs) to serve 15 months in prison for her part in trafficking a girlfriend's (Laura Prepon) drug money a decade prior. There's a broad range of characters on the inside. This is a cast of dozens.
One standout, however, is Cox, as transgender inmate Sophia Burset, who broke the law trying to fund her gender-transition. While she's appeared on TV and in the 2011 film Musical Chairs, this new role is a big step for Cox.
"This is another 'moment' I'm having," says Cox, preferring to avoid characterizing any point of her career as a "big break." "But it's probably the biggest moment I've had in my career so far. I had another moment in 2008 when I was on [VH1 reality show] I Wanna Work for Diddy. That was the moment the public go to know who I was. But I've never been a reality-show person. I've always been an actress. I've always been an artist. So, this is a lovely moment I'm trying to enjoy."
Having her backstory episode — the third in the first season of Orange Is the New Black — directed by Jodie Foster was a particular enjoyment. And having her twin brother, artist M. Lamar, play her character pre-transition in that episode was also a thrill. What Cox seems to most enjoy, though, is simply the mood on the set.
"There's such love," Cox says of the cast. "We've gone through this thing together. People are loving the show and we're just so happy for each other. And everyone is just gagging over how good everyone else is. Like everybody's killing it, every single actor on our show is incredible. Everyone is congratulating each other. I can't get over just how talented everyone is and how much love there is on the set."