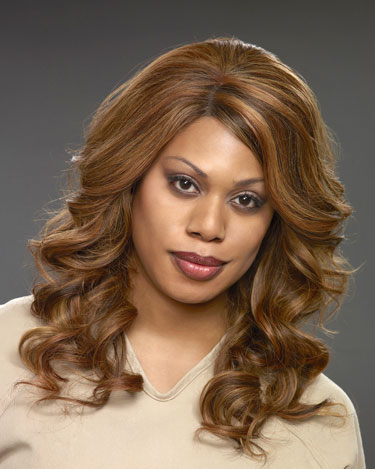 Laverne Cox
(Photo by Jill Greenberg for Netflix)
It's a long way from her hometown, Mobile, Alabama. A long way from being bullied and trying to establish her identity. Cox's life today, where the acting is complemented by her activist efforts on transgender issues – like advocating for CeCe McDonald, a transgender woman serving a 41-month sentence for fatally stabbing a man who attacked her and her friends, or writing on Huffington Post – may actually be a sort of homecoming. With the life she's built, the Laverne Cox the world knows today is a woman seemingly more at home than she's ever been.
"Acting is what I love to do most," she says. "I find the acting work that I do around particular issues that deal with the trans community a necessity. There is an actual call to do the acting. It's my passion."
METRO WEEKLY: What sort of childhood did you have growing up in Mobile?
LAVERNE COX: You know, I've been thinking a lot lately about growing up in the church. I went to Bethel African Methodist Episcopal Church in Mobile, Alabama, and the church was such a huge part of my life growing up.
I was that kid who was always getting up and making speeches in church. I sang in the choir. I was an usher. I was in the youth group. The church was a huge part of my life. It's where I really learned to get up onstage, learned I could speak well in front of people. When I think about my childhood, the church was a huge part of it.
And being bullied was a huge part of it. I think about being chased home from school every day. We took the bus through grade school and middle school, and the second we got off the bus we'd start running, me and my brother. That was a huge part of my life.
Dreaming about getting out of Alabama was a huge part of my life growing up. [Laughs.] I went to an arts school in Birmingham for high school, Alabama School of Fine Arts. That was a major shift for me in terms of my worldview. There were kids from all over the country, from different backgrounds. It was an arts school, but you had to maintain a certain GPA. My education really took off in a different direction in arts school. That was an amazing time for me. I was initially a creative writing major, even though I started dancing at 8 years old. So, I started as a creative writing major – which has proven invaluable, because I write a lot now – then switched to dance when I was a junior.
MW: The bullying of you and your brother, how bad did that get? Was there anyone you could turn to for help?
COX: I remember this one incident when we got off the bus and they caught us. A big group. Some of them were in the band and they hit us with drumsticks. Some parents saw that and called the school. The principal called my mother and told her. My mom and I are really cool now, we've worked through all this, but at the time she was like, "Why aren't you fighting back? What are you doing to make them bully you?" We never felt like we could really talk to her about what was going on. They were calling us "faggot" and "queer" and "sissy" and all of those things. That was also very embarrassing. I had shame around being called those things, being singled out for those things.
MW: Attending the Alabama School of Fine Arts must have been a good foundation for then going to Marymount Manhattan College, also an arts-focused school.
COX: I've always been a creative person. Like I said, started taking dance lessons when I was like 8 years old – begged my mom to put me in dance class. Even when I was dancing, I always felt like I was an actor who danced. I always knew I would transition to acting.