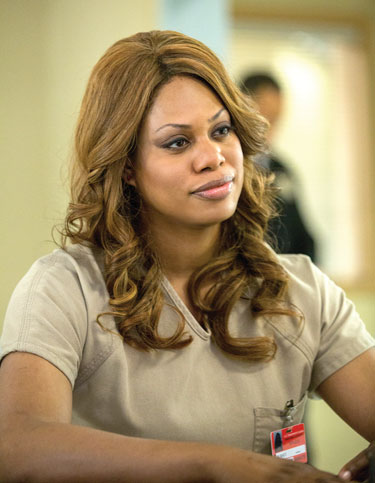 Laverne Cox
(Photo by Eric Leibowitz for Netflix)
MW: How does playing Sophia compare to other work you've done?
COX: What really moves me about playing Sophia, and the show, is that people are really connecting with Sophia's character in such a human way. I was talking to one actress on the show – I won't say who – who was saying that her mother is really conservative and she's been trying to get her mother to be less narrow-minded, if you will, about LGBT issues, particularly trans issues. And she saw my character in Episode 3, she cried and said, "Oh, I get it now. Okay." All these misconceptions she had about trans people just melted away, because she connected with this character in a human way. The actress, she teared-up when she told me this story, just shocked by her mother's shift.
I've seen thinking about transgender people shifting because of this show. It reminds me how powerful the medium of television is, how powerful it is when we really can connect with someone as a human being. When minds change, then it's like, "Well, maybe they should have rights. Maybe we shouldn't discriminate against them. Maybe they should have access to health care. Maybe you can hire them."
MW: Not to knock Boys Don't Cry or Transamerica, but I think it's very important to have a transgender character portrayed by a transgender actor.
COX: It is. As actors, we want to play everything. And I love Felicity Huffman as an actor, and I love Hilary Swank as an actor – and Kerry Washington, who played a trans woman in Life Is Hot in Cracktown.
But it's different when an actual transgender person is playing it, on so many different levels. In terms of visibility. In terms of relatability. Trans people can imagine that they can have those opportunities, too. Can have their dreams of being on television. So many young trans people dream of being an actor and don't think it's possible because they're trans. There was a point where I almost gave up. Luckily, I didn't.
MW: Do you fear being typecast?
COX: Almost everyone is typecast in this industry. I don't think about that, I really don't. Maybe I'm being delusional or overly optimistic, but I believe that it's my job as an actor that I can be a lot of different things.
In this day and age of YouTube, Internet and producing your own work, there are options. I'm thinking positively and manifesting what I want.
MW: Being positive, having that strong church background, is there a particular faith or spirituality you follow today?
COX: At this point, I still believe in God, but I don't believe in organized religion. I'm grateful for the sort of moral foundation I got in the church I grew up in. As an adult, with all that I've learned, I don't subscribe to an organized religion at this point in my life.
I do believe in spirituality. I do believe in God. I do my own versions of meditation. For me, it's very important to connect on a daily basis – hopefully, several times a day – with a power that's greater than myself. This whole journey that I'm on is so much bigger than me. You think there has to be a God if a black transsexual can have the kind of professional moment I'm having now. It's only possible in America, and only possible, I think, because of a higher power.
MW: What about Sophia do you admire – or not?
COX: Sophia is quite resilient. She is the kind of person who makes the most of her situation. She's incarcerated and she's making that work. She's figured out a way – at least so far, as far as I know – to stay safe in prison. She's very conflicted about her family, feeling like she's abandoned her family – I connect with that. Sophia has guilt and remorse about having left her family, but she's done it for a reason. She understands why she had to do it.
I can't say, as the actor playing Sophia, I have any problem with Sophia. I have sympathy, love and compassion for her. Even when she's doing criminal activity, you know she's doing it in a system that isn't always right and fair. She's in prison because she didn't have access to adequate health care to transition. I'm not mad at her for that. [Laughs.]