Despite intermittent rain showers, thousands of people gathered outside Saturday evening at Montreal's Old Port to see the annual Mascara drag show.
Organized by Mado Lamotte, Mascara is one of the largest drag shows in North America. This year's show included more than two dozen diverse performances inspired by music from Hollywood to Bollywood, Broadway to Motown. Each act was choreographed with elaborate costumes and dancers.
Mascara has been part of Divers/Cité, Montreal's LGBT music and arts festival, for over a decade.
This year's Divers/Cité, held July 28 to Aug. 4, drew approximately 40,000 attendees. In addition to Mascara, the festival's schedule included outdoor film screenings and multiple indoor and outdoor dance parties.
"The theme we use is always the same: All Together Different," Divers/Cité program director Ian Abinakle said in a recent interview with the Montreal Gazette. "The idea is to have a quality event that can bring people together and allow them to dance together, without asking them if they are gay or not."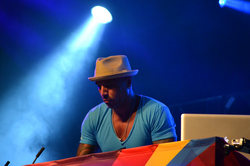 The main outdoor dance parties were held on two large waterfront stages at Quai Jacques-Cartier. The lineup of local and international DJs included some of the biggest names in the industry, including Def Mix's David Morales, Hector Romero and Frankie Knuckles.
More information about Divers/Cité and other LGBT events in Montreal is available from Tourism Montreal.
[Video: Scenes from Mascara 2013. Credit: Troy Petenbrink.]
[Photo: David Morales. Credit: Troy Petenbrink.]