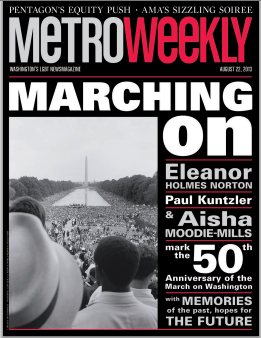 "There's so much going on in the days leading up to the 28th," Terri Harris Reed of the George Washington University tells Metro Weekly. She's referring to the 50th anniversary of the original March on Washington, which occurred Aug. 28, 1963. And a simple glance through Metro Weekly's special issue focused on the march and its legacy proves her point.
Events over the next few days are actually bookended by official marches ending at the Lincoln Memorial — the main one tomorrow, Saturday, Aug. 24, and a second Wednesday, Aug. 28, featuring speeches from all three of the most recent Democratic Presidents: Jimmy Carter, Bill Clinton and Barack Obama. For details about both events and other official events on tap, including a multi-day Freedom Festival, visit the website of the 50th Anniversary Coalition for the March on Washington. There are also at least two events explicitly focused on commemorating Bayard Rustin, the late gay planner of the original March on Washington: A celebration at the DC Center Sunday, Aug. 25, from 2 p.m. to 5 p.m.; and another set for Monday, Aug. 26, from 6 p.m. to 9 p.m., at the Lincoln Theatre. Both events will feature speeches about the man and his work from various civil rights and LGBT leaders as well as excerpts from the 2002 documentary Brother Outsider: The Life of Bayard Rustin.
But that's only the tip of the mountaintop when it comes to arts and culture-focused things to see and do around town. In fact, many of D.C.'s leading performing arts venues and museums will host their own commemorative events. I've highlighted here just five — all but one of which are free — culled from the Out On The Town section of Metro Weekly.
1. LISNER AUDITORIUM: SOUNDTRACK OF A MOVEMENT
Terri Harris Reed, vice provost for diversity and inclusion at The George Washington University, detailed the particulars of this free music-centered multimedia event for an article in this week's Metro Weekly. Patrick Lundy & The Ministers of Music and jazz harmonicist Frederic Yonnet will perform freedom songs, and civil rights leader Julian Bond and Dr. Eddie Glaude of Princeton University will both speak. Wednesday, Aug. 28, at 7 p.m., at Lisner Auditorium at The George Washington University, 730 21st St. NW. Tickets are free but reservations recommended. Call 202-994-6851 or visit lisner.org.
2. THE KENNEDY CENTER: HERITAGE SIGNATURE CHORALE
The Kennedy Center's Millennium Stage commemorates the 50th anniversary of Dr. Martin Luther King Jr.'s "I Have A Dream" speech with a performance by this D.C.-based chorale, now in its 14th season and committed to preserving the performance tradition of African-American music, especially the Negro Spiritual. Wednesday, Aug. 28, at 6 p.m. Kennedy Center Millennium Stage. Tickets are free. Call 202-467-4600 or visit kennedy-center.org.
3. LIBRARY OF CONGRESS: A DAY LIKE NO OTHER EXHIBIT
A Day Like No Other: Commemorating the 50th Anniversary of the March on Washington features 42 black-and-white images plus a video demonstration of 50 additional images commemorating the 250,000 people who participated in one of the largest nonviolent demonstrations for civil rights that America has ever witnessed. Through March 1, 2014. Graphic Arts Galleries in the Library of Congress's Thomas Jefferson Building, 10 First St. SE. Call 202-707-8000 or visit loc.gov.
4. NATIONAL PORTRAIT GALLERY: MLK JR. EXHIBIT
One Life: Martin Luther King Jr. features historic photographs, prints, paintings and memorabilia, mostly drawn from the National Portrait Gallery's extensive collection, tracing the trajectory of King's career. This Sunday, Aug. 24, from 11:30 a.m. to 3 p.m. the museum features multiple performances in the Kogod Courtyard by Kim & Reggie Harris. Through June 1, 2014. National Portrait Gallery, 8th and F Streets. NW. Call 202-633-8300 or visit npg.si.edu.
5. NEWSEUM: MAKE SOME NOISE EXHIBIT
Just one of several exhibitions at the Newseum marking the 50th anniversary of the march, Make Some Noise: Students and the Civil Rights Movement explores the new generation of student leaders that emerged in the 1960s to fight segregation and fight for civil rights. John Lewis, now a U.S. representative from Georgia, and Julian Bond, a former chair of the NAACP, are among the leaders highlighted here. Through 2015. Newseum, 555 Pennsylvania Ave. NW. Tickets are $21.95 for general admission. Call 888-NEWSEUM or visit newseum.org.