In case you haven't heard, New York's Splash Bar nightclub has announced plans to close this Sunday, Aug. 11, after 22 years in business. The New York gay institution, once the reigning domain of stereotypical "Chelsea Boy" gym bunnies, and for a spell last decade known by the fashion-related acronym SBNY, is closing up shop for the simplest of reasons: A lack of steady business.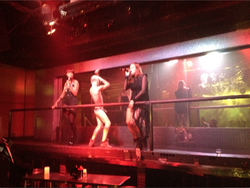 "Maybe there is less of a need to have bars dedicated to just gay men," owner Brian Landeche said, seemingly in total seriousness, in a post by Jeffrey James Keyes to the Queerty blog. Keyes's post suggested other reasons for the decline in Splash's popularity, including the general gay migration from Chelsea to the East Village and Hell's Kitchen. After all, other bars dedicated to gays are thriving in those neighborhoods, including XL Nightclub. (Though for the record, Chelsea is still plenty gay, with many gay bars still going strong in that hood.) As if on cue, XL has announced that it will now serve as host to "Musical Mondays," one of Splash's last-standing longstanding events. This Monday, Aug. 12, Billy Porter, the Tony-winning star of Kinky Boots and recent Metro Weekly coverboy, will help kick off in high fashion XL's takeover of the popular showtunes sing-along night.
Whatever caused its decline in popularity, Splash Bar is remembered fondly by many for the various parties it hosted, thrown by New York's leading nightlife promoters. These events drew appearances by big-name DJs, go-go dancers and gay-popular music celebrities, including Katy Perry, Destiny's Child's Michelle Williams and Cyndi Lauper, who even filmed her amusing 2008 video "Into the Nightlife" in the space.
Why, it wasn't even a year ago I saw Icona Pop perform for the first time — at Splash. The Swedish duo took to the stage late – well after 2 a.m. — on a Thursday night as part of the CMJ Music Marathon. The lightly attended crowd included a twinky gay boy called up on stage by Icona Pop's Caroline Hjelt, who proceded to make out with him. "Wow, we were so drunk," Hjelt laughingly conceded in a pre-Capital Pride interview with me. (That's my grainy cameraphone image taken that night, top right.)
Splash will end its run Sunday, Aug. 11, with an "Encore Finale" party featuring Lady Bunny and its longtime resident DJ Max Rodriguez, as well as some "Surprise Guests." On Tuesday, Aug. 13, Splash will auction off its fixtures and memorabilia.
Speaking of memorabilia, do you still have your Splash Card — either white (pictured below) or black — which allowed "priority entrance & discounted admission" — except when it didn't? ("May not be valid for certain special events," the fine print read.) It's not worth anything now, of course. But ah, the memories…