A few years ago, Shea Van Horn performed at night on the National Mall as part of the Hirshhorn Museum's After Hours programming. Next Thursday, Aug. 29, Van Horn will nearly repeat the experience — though this time with a performance a couple blocks off the Mall at the gorgeous Art Museum of the Americas (AMA). And this time as DJ Shea Van Horn, not drag performer Summer Camp.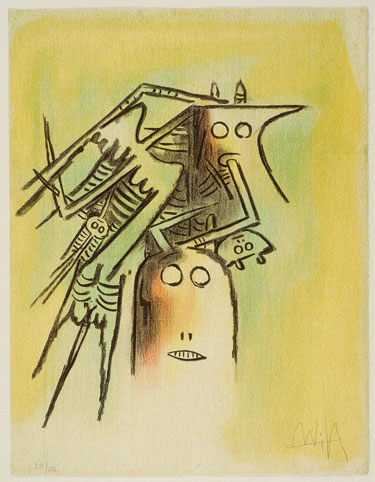 "Untitled" by Wilfredo Lam
(Photo courtesy of the Art Museum of the Americas)
Jonathan Goldman helped put together this year's "Art After Dark" event at the AMA, part of the Organization of American States (OAS). "I think it's a really nice time to have fun and see the museum and experience the OAS in a way that most times the public can't," says Goldman, an exhibition designer at AMA. Now in its fourth year, the soiree has become the museum's chief source of revenue for exhibitions, with a fundraising goal of $30,000. And this year the museum will actually be open during the nightly event, allowing people to see the full collection of modern Latin American and Caribbean art as well as the current special exhibition Fusion: Tracing Asian Migration to the Americas.
In addition to Van Horn, Dangerous Muse will perform. The New York-based electro-pop band is expected to premiere its new music video during a 45-minute set that will also include its own video projections. But video art by various artists will also be projected onto OAS's neo-colonial main building throughout the night. Goldman, who's been with the museum for more than three years, says that's become a tradition of the event. It's just another way, he adds, that the museum "is trying to carry out the mission of the OAS through art and culture and music." '
Art After Dark is Thursday, Aug. 29, from 8 p.m. to 12:30 a.m., at the Art Museum of the Americas, 201 18th St. NW. Tickets are $25, or $45 for VIP, allowing early and express access plus a private bar. Call 202-370-0147 or visit amamuseum.org.