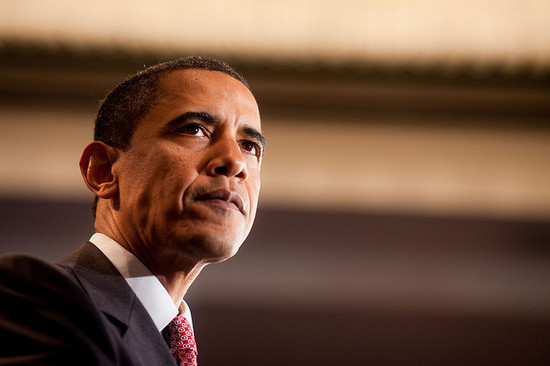 President Barack Obama spoke out for the first time Tuesday on Russia's new anti-LGBT law, stating that he has "no patience" for countries who engage is discrimination against LGBT people.
"I've been very clear that when it comes to universal rights, when it comes to people's basic freedoms, that whether you are discriminating on the basis of race, religion, gender or sexual orientation, you are violating the basic morality that I think should transcend every country," Obama said during an interview with Jay Leno on The Tonight Show. "And I have no patience for countries that try to treat gays or lesbians or transgender persons in ways that intimidate them or are harmful to them."
Noting that Russia's anti-LGBT law banning "propaganda of nontraditional sexual relations" is similar to laws in some African countries, Obama said it remains important for him to speak out on LGBT-equality much as he did during a recent tour of Africa.
"But one of the things that I think is very important for me to speak out on is making sure that people are treated fairly and justly, because that's what we stand for. And I believe that that's a precept that's not unique to America, that's something that should apply everywhere," Obama said.
The White House announced Wednesday morning that Obama canceled a bilateral meeting scheduled to be held with Russian President Vladimir Putin during the G20 Summit in St. Petersburg in September, alluding to Russia's anti-LGBT law as among the reasons the meeting was canceled.
"[G]iven our lack of progress on issues such as missile defense and arms control, trade and commercial relations, global security issues, and human rights and civil society in the last twelve months, we have informed the Russian Government that we believe it would be more constructive to postpone the summit until we have more results from our shared agenda," White House press secretary Jay Carney said in a statement. "Russia's disappointing decision to grant Edward Snowden temporary asylum was also a factor that we considered in assessing the current state of our bilateral relationship."
Obama's remarks come after weeks of mounting pressure for action as Russian officials have made no promises to stop enforcing the law, which criminalizes displays of public support for LGBT equality, when Russia hosts the 2014 Winter Olympics in Sochi. Last week, 83 members of Congress attached their names to a letter to Secretary of State John Kerry asking for assurances of how the State Department will ensure the safety of LGBT people and supporters during the Olympic games and today, a petition with more than 320,000 signatures calling for a repeal of the Russian law will be delivered by staff members of All Out to the International Olympic Committee (IOC) in Switzerland.
Russian citizens face high fines and jail time for violating the law and foreigners face deportation.
Obama did no speculate on specifics on how the anti-LGBT law, which was signed into law by Putin on June 30, could impact the Olympics.
"I think Putin and Russia have a big stake in making sure the Olympics work, and I think they understand that for most of the countries that participate in the Olympics, we wouldn't tolerate gays and lesbians being treated differently. They're athletes, they're there to compete," Obama said. "And if Russia wants to uphold the Olympic spirit, then every judgment should be made on the track, or in the swimming pool, or on the balance beam, and people's sexual orientation shouldn't have anything to do with it."
According to Human Rights Campaign President Chad Griffin, the IOC must obtain "ironclad written assurance" from Putin that foreigners will be exempt from the law during the Olympics and should be advocating for the safety of all LGBT people in Russia.
"At the very least, this heinous law denies LGBT people in Russia the slightest shred of dignity and humanity," Griffin said in a statement. "But as we've seen in the news, people's lives are at stake thanks to this state-sanctioned homophobia and transphobia that reaches the highest levels of Russian government. President Obama is right to be concerned as the Olympic Games in Sochi draw near – not just for Americans traveling to Russia, but for those who must endure the law long after the last medal is won."
[Photo: Barack Obama. Credit: Official White House Photo by Pete Souza.]
Watch Obama's remarks here: