One in three Americans believe gays can choose to be straight, according to a segment of a survey rereleased from the Pew Research Center Tuesday.
According to the survey, 51 percent of all Americans believe an LGBT person cannot change his or her orientation, while 36 percent think they can.
More than half of conservative Republicans and black respondents said sexual orientation can be changed. Liberal Democrats and those with a family income of more than $75,000 were least likely to believe in the ability to switch.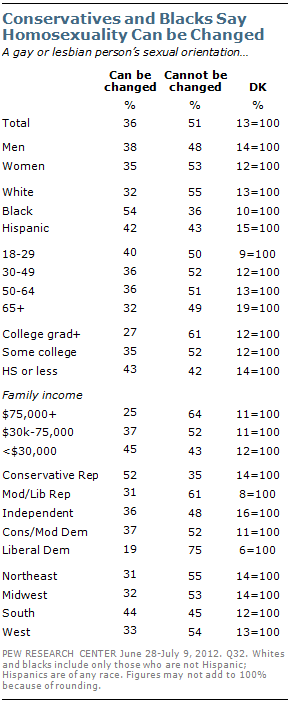 A decade ago, Americans were more divided on the issue. A 2003 Pew survey found that respondents were equally split at 42 percent.
The organization rereleased the data just days after New Jersey Gov. Chris Christie signed a bill banning therapists from attempting to practice "reparative therapy," or trying to turn gay people straight, on minors.
"I also believe that on the issues of medical treatment for children we must look to experts in the field to determine the relative risks and rewards," said the Garden State Republican. "I believe that exposing children to these health risks without clear evidence of benefits that outweigh these serious risks is not appropriate."
A 2009 study by the American Psychological Association concluded that "ex-gay" therapy was unlikely to lead to permanent change of one's sexual orientation.
The Human Rights Campaign reports that individuals who experience this are more than eight times as likely to have attempted suicide, nearly six times as likely to report high levels of depression, and more than three times as likely to use illegal drugs or to be at high risk for HIV and other diseases.
According to the HRC, "There is significant anecdotal evidence of harm to LGBT people resulting from attempts to change their sexual orientation. Based on this body of evidence, every major medical and mental health organization in the United States has issued a statement condemning the use of reparative therapy."
California is the only other state in the country that bans "reparative therapy" for gay teens.