If I never see another human body explode, it'll be too soon — and it's all Neill Blomkamp's fault. The South African filmmaker made his bones four years ago with District 9, an unusual sci-fi allegory inspired by apartheid, but his sophomore follow-up, Elysium, abandons that precision and sense of purpose for a bold, confusing sort of grand ambition. This movie is a mess of social polemics, dull palace intrigue, and by-the-numbers manipulations that don't elicit emotional responses as often as they merely signal them. And again, there's the whole "people burst into wet, bloody chunks of flesh" thing. I mentioned that detail, right?
Blomkamp's work aims to marry social justice with muscular violence, and at best he's managed an uneasy partnership between the two here. Elysium exists in a liberal feverscape of social, political and economic inequality — the year is 2154, and the wealthiest humans live disease-free on a ring world that orbits Earth — humming with the din of violence, without any caution or concern about what it means when the oppressed turn weapons against their oppressors. This is a revenge fantasy, pure and simple, shrouded by a thin story that only seems to make sense when you think about it as little as possible.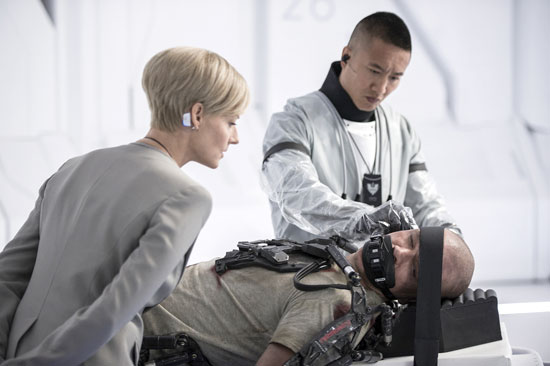 Elysium: Foster and Damon
(Photo by Kimberley French)
That story goes something like this: Matt Damon plays Max, an ex-convict who works in a factory in the favelas of Los Angeles. Max abandoned a risky life of car-jacking — he was "the best," his friend Julio (Diego Luna) says in a fit of expository nostalgia — and now he spends his days building the very same police robots that stalk and harass parolees like him. Despite no signs of upward mobility, Max clings to the notion that he can work his way to a stable life. (We know this will not happen. This isn't Paul Ryan Presents: Atlas Shrugged. Nobody who plunks down 12 bucks to see Elysium expects to walk away praising the merits of hard work in a free market. Sorry, libertarians.) Sure enough, a workplace accident doses Max with a fatal amount of radiation poisoning. He has five days of life left in him, which means the only way he can save himself is by getting a ticket to that big ring in the sky: Elysium.
What follows is a marathon of bloodshed — kicked off by a grisly operation that fastens an exoskeleton to Max's body and a computer to his brain stem. After that, the carnage never really subsides. Max is chased down by a psychopath black-ops agent named Kruger (Sharlto Copley), while a militaristic Elysium technocrat (Jodie Foster) plots a coup under the auspices of "Homeland" security. To those ends, we witness beatings, stabbings, those oh-so-pleasant human explosions, and a variety of flesh wounds that would best be described as significant. Blomkamp seems to celebrate this violence, as if inequality could be resolved with high-tech guns and bionic fistfights. Elysium could've been Saul Alinsky meets Rambo. Instead, it feels like something Paul Verhoeven would cook up while nursing a hangover and reading about the Weathermen.
ELYSIUM



Starring Matt Damon, Jodie Foster, Sharlto Copley
Rated R
109 minutes
Opens Friday
Area theaters
Still, all that gore looks damn good. Blomkamp is a special-effects whiz, as anyone who saw District 9 can attest, and it's no small feat that Elysium boasts the same sorts of visual wonders on a much grander scale. The robots and spaceships whipped together by Peter Jackson's Weta Workshop blend seamlessly with Trent Opaloch's cinematography — even when we're not thrilled by what we're watching. The final product may not be much fun, but at least it's not ugly.
That is Elysium's dirty secret: Behind a veneer of special effects, this is little more than a tired Hollywood formula masquerading as sci-fi for smart people.
Don't be duped. It isn't.
If you're looking for a dystopian film that addresses inequality in a thrilling and progressive ways, I suggest you find a copy of Alfonso Cuarón's Children of Men instead. Blomkamp is searching for a similar sort of social justice with Elysium, but he's following a trail of scattered viscera. His bloody hands only tarnish and stain what he discovers.