"It's odd that I am a poet," Niki Herd laughs, "because I remember not caring for poetry very much in high school."
Herd, who grew up in a black, working-class environment in Cleveland, had the same reaction many people have to the kind of classic or traditional poetry presented to her in school.
"I didn't feel like I saw or heard myself and my experience in the works that I had read," she says. "I can go back now and I can read those works, and I feel completely different. They don't seem foreign to me. But I think I personally needed to hear someone that mimicked my own experience."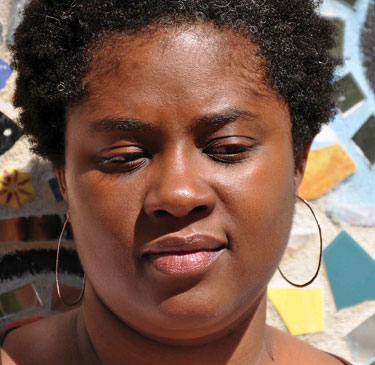 Niki Herd
(Photo by Jennie Scott)
Herd credits Ruth Foreman as helping her see poetry in a new light — and as her calling. Herd would end up taking classes taught by Foreman while earning her master's of fine arts at Antioch University in Los Angeles, but she first stumbled upon Foreman at a poetry reading in a café in Tucson, Ariz., a little over a decade ago.
"I have to attribute walking into that coffee shop that evening to the reason why I'm here today," Herd says. "There was something in her words and the way she used language that made me want to do this."
The 44-year-old Herd actually wrote her first poem in 2002, upon the death of her grandmother, who "almost raised me." "The first reaction that I had to her death," she says, "was to write a poem. I don't know why."
Herd says that the resulting poem "was not very good," but it convinced her that she needed to pursue a degree in creative writing.
A few years ago Herd culled from the many poems she had written since her grandmother's passing, looking for the strongest pieces and common themes. The result is her debut book, The Language of Shedding Skin, which weaves together poems both political – exploring violence against black men and gay people – and personal, familial. The poems in the book, Herd says, reflect "the language of poor black people. … As I got older, I was always taught not to speak a certain way; not to necessarily speak like how my grandparents spoke. But they were huge influences on me, and so it's important for me to have that type of language in the book."
This Saturday, Aug. 3, Herd will read from the collection at OutWrite. Herd, who moved to D.C. two years ago to explore and enjoy the city's riches in arts, culture and entertainment, was moved by some of the readings she took in at last year's OutWrite. She's thrilled to be officially part of it this year. "I think now is an exciting time to be writing, particularly in this historical moment for gay people," she says.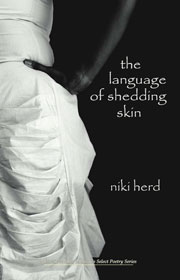 The Language of Shedding Skin
Herd is about three-fourths finished compiling a second collection of poems, this one focused on violence against women. She'd eventually like to challenge herself by trying her hand at writing narrative nonfiction, specifically a memoir, sharing her experiences in a broader, more concrete fashion. By day an academic advisor at Trinity University, Herd would also like to teach poetry full time. Currently she teaches one poetry course each fall at Trinity, where she finds particular joy in turning her skeptical students on to poetry in much the same way Ruth Foreman did for her.
"When I teach here," Herd says, "a lot of the students are only familiar with lyrics, or with a certain type of poetry, typically what we would consider performance poetry. And so they don't understand — usually by the third or fourth week in, my students are saying, 'Oh my God, I have a different respect for poetry. I have a greater appreciation of this."'
"And they also understand there's so much more that they can do," she continues. "It's more than just about conveying an experience."
Niki Herd reads from The Language of Shedding Skin as part of the OutWrite LGBT Book Fair Saturday, Aug. 3, at 1 p.m., at the Reeves Center, 2000 14th St. NW.