Robbie Rogers never set out to make history. But on May 26, he did just that.
Rogers had taken to the soccer field hundreds of times. Growing up one of five siblings in Orange County, Calif., he began kicking the ball around when he was 4 years old. But as the 26-year-old professional soccer player took to the field this past May for the Los Angeles Galaxy, he became the first out gay man to ever play for a major league team in the United States.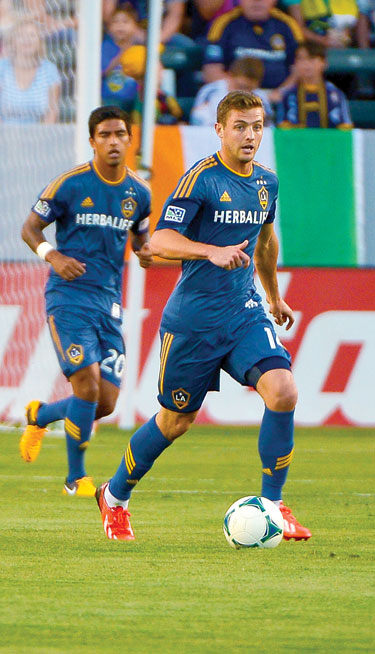 Robbie Rogers
(Photo courtesy LA Galaxy)
A former Olympian, Rogers had come out just three months earlier in a heartfelt blog post on his personal website in which he announced he was gay and retiring from soccer at the age of 25.
"For the past 25 years I have been afraid, afraid to show whom I really was because of fear. Fear that judgment and rejection would hold me back from my dreams and aspirations. Fear that my loved ones would be farthest from me if they knew my secret. Fear that my secret would get in the way of my dreams," Rogers wrote on Feb. 23 from London, where he had been playing for Leeds United. "Secrets can cause so much internal damage. People love to preach about honesty, how honesty is so plain and simple. Try explaining to your loved ones after 25 years you are gay. Try convincing yourself that your creator has the most wonderful purpose for you even though you were taught differently."
The revelation that Rogers was gay came at the same time speculation was swirling about when the first male athlete playing for one of the major American sports leagues would become the first to come out as gay. But Rogers was playing in in the United Kingdom, and now he would step away from soccer, he wrote, in order to find himself.
Fast-forward two months, and Rogers had reconsidered his decision to retire. One day after basketball player Jason Collins announced he was gay, becoming the first out male athlete in any of the four major American sports leagues, though he's not since played professionally, Rogers was training with Major League Soccer's L.A. Galaxy and would soon sign a contract with the team after being inspired by a visit with LGBT teens.
"Until I came out publicly," he says, "I didn't realize how important it was for me to talk about it and speak with kids and go visit kids and to share my life a little bit more just so it would help them out because I didn't have that growing up."
Rogers has embraced his new role as a spokesman and role model, and, six months after he announced to the world he is gay, the athlete appears as confident as ever, on and off the field.
METRO WEEKLY: I read you recently suffered an injury on the field. What happened and how are you doing?
ROBBIE ROGERS: Yeah, I've had two injuries, both hamstrings. Just going back now and starting to ride the bike again this week. It's frustrating because you have an injury and you come back and train for a few weeks and you have another one. It's part of being an athlete, but it never gets easier.
MW: It's been a little over six months since you came out in a statement posted on your website. Has the reaction been anything like you anticipated?
ROGERS: I didn't anticipate anything. I didn't know what the reaction was going to be. That's why when I announced I just turned off my phone and shut my laptop, because I didn't know what to expect. From that point on it's been very positive. Everyone's been very supportive.
I told my family back in October/November and they've been with me all along the way. They've been amazing. I feared so much. I feared, obviously, coming out and telling people and talking to people about that part of me. But people have made it really easy for me, really easy for me to come back to soccer and just made it easy for me to get on with my life. So, I'm pretty blessed in that way.
I wasn't going to make a statement or do anything. I was just going to kind of step away from soccer in the middle of January. But I wrote the thing I posted on social media in December and had it on my desktop for a few months and in February I just felt like I kind of wanted to. I don't really know what was urging me to do it, but something inside me told me to do it. And I just spoke with a few friends and they were like, "Yeah, why not? What do you have to lose?" So, that's when I posted that.
MW: How did you come out to your family?
ROGERS: I was in London, so over Skype.
MW: Did they see it coming at all?
ROGERS: No, they didn't.
MW: And what led you to come out over social media?
ROGERS: I didn't have it all the way off my back. I told my family and friends, and people said I looked like I felt 20 pounds lighter. And I did feel that way, but I still felt like it was something I just needed to get off my chest. I didn't know what the reaction was going to be, and I didn't care very much. I just wanted to get this out of me. So that's why I did that. And now in the age of social media it's so easy to get your thoughts and opinions out there.