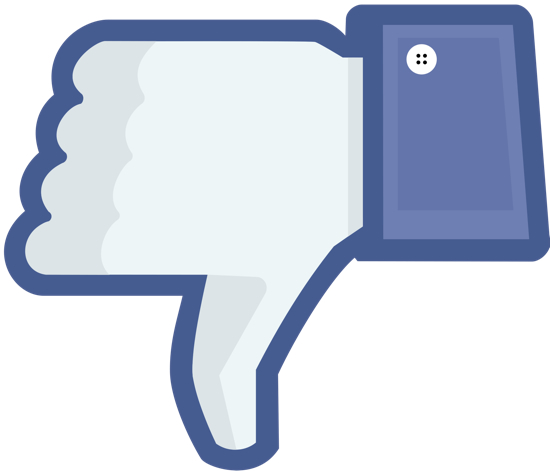 A new study published in the Public Library of Science "predicts declines in subjective well-being in young adults." Or, to put it more succinctly, Facebook could possibly make you sad. Especially if you use it too much. Like every day. All the time. As the study, conducted at the University of Michigan, notes:
Over 500 million people interact daily with Facebook. Yet, whether Facebook use influences subjective well-being over time is unknown. We addressed this issue using experience-sampling, the most reliable method for measuring in-vivo behavior and psychological experience. We text-messaged people five times per day for two-weeks to examine how Facebook use influences the two components of subjective well-being: how people feel moment-to-moment and how satisfied they are with their lives.
Our results indicate that Facebook use predicts negative shifts on both of these variables over time. The more people used Facebook at one time point, the worse they felt the next time we text-messaged them; the more they used Facebook over two-weeks, the more their life satisfaction levels declined over time. Interacting with other people "directly" did not predict these negative outcomes. They were also not moderated by the size of people's Facebook networks, their perceived supportiveness, motivation for using Facebook, gender, loneliness, self-esteem, or depression. On the surface, Facebook provides an invaluable resource for fulfilling the basic human need for social connection. Rather than enhancing well-being, however, these findings suggest that Facebook may undermine it.
This isn't the first time negative data surrounding Facebook use has been intimated, and while the study sample is rather minuscule — 82 people out of a user base of, what, a billion or so? — experts are quick to glom onto the fact that Facebook's social strata may create an imbalance. Call it, "The Grass is Greener Syndrome."
"People feel left out," New York University's Dr. Sudeepta Varma told ABC News. "There is this imagination or fantasy that other people's lives are better. Facebook keeps people in the know about what other people are doing, but also about what they themselves are not doing."
Varma also noted that people spend their time on Facebook perusing "exes, frenemies, people they don't necessarily like, and people they can't be with in real life," and that they then tend to imagine these people have "more friends, more money and a more exciting life."
(An aside: Who the hell came up with the term "frenemies"? And can that person be drawn-and-quartered, please?)
Okay. One thing's being overlooked here. The study was conducted in Michigan. Michigan. So could it have something to do with the environment in which these people reside? We repeat: Michigan. But, okay, to be on the safe side, let's give the researchers the benefit of the doubt and suggest that the next time you're on Facebook sharing pictures of your puppy, trading bland pleasantries with a friend of a friend of a friend of a friend who friended you, hoping for a meaningful virtual hookup, or simply enjoying an hour or two or six of Candy Crush Saga to avoid all that work you should be doing, you ought to consider popping a Xanax or two. Just to be on the safe side.
Read the full study here.