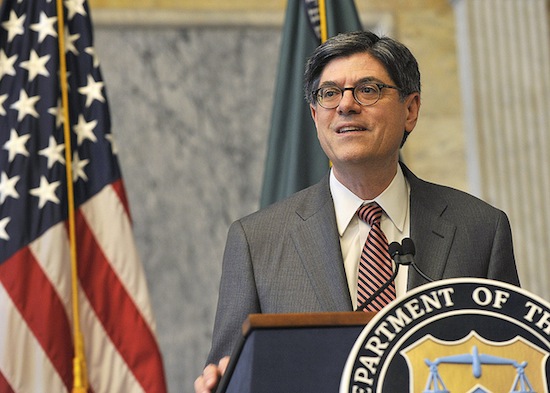 Same-sex couples married in jurisdictions that recognize their right to wed will be considered married for federal tax purposes regardless of where they currently live following a ruling announced Thursday by the Treasury Department and Internal Revenue Service.
According to the Treasury Department, the ruling applies to all federal tax purposes that take marriage status into account, including income and gift and estate taxes, filing status, claiming personal and dependency exemptions, taking the standard deduction, employee benefits, contributing to an IRA and claiming the earned income tax credit or child tax credit.
"Today's ruling provides certainty and clear, coherent tax filing guidance for all legally married same-sex couples nationwide. It provides access to benefits, responsibilities and protections under federal tax law that all Americans deserve," said Treasury Secretary Jack Lew in a statement. "This ruling also assures legally married same-sex couples that they can move freely throughout the country knowing that their federal filing status will not change."
The ruling applies to any same-sex marriage legally entered into one of the 50 states, the District of Columbia, a U.S. territory, or a foreign country. It does not apply to registered domestic partnerships, civil unions or similar formal relationships recognized under state law. According to Evan Wolfson of Freedom to Marry, that fact in particular "highlights the need for an America where everyone can marry the person they love in any state, and have that marriage respected at all levels of government."
With the statute of limitations for filing a refund claim set at three years from the date the return was filed and two years from the date the tax was paid, the Treasury Department says same-sex couples can still file refund claims for tax years 2010, 2011 and 2012. Moreover, some taxpayers may be able to file refund claims earlier than that depending on special circumstances, such as whether an agreement was signed with the IRS to keep the statute of limitations open.
A release from the Treasury Department states, "employees who purchased same-sex spouse health insurance coverage from their employers on an after-tax basis may treat the amounts paid for that coverage as pre-tax and excludable from income."
The ruling comes just over two months after the Supreme Court struck down Section 3 of the Defense of Marriage Act defining marriage as between a man and a woman. Edie Windsor, the 83-year-old lesbian widow at the center of that case, sued the federal government to recoup about $363,000, the federal estate tax she was forced to pay on her "inheritance" following the death of her wife in 2009. Prior to today's ruling, lawfully married same-sex couples were forced to declare themselves "unmarried" when filing their federal tax returns.
"With today's ruling, committed and loving gay and lesbian married couples will now be treated equally under our nation's federal tax laws, regardless of what state they call home," Human Rights Campaign President Chad Griffin said in a statement. "These families finally have access to crucial tax benefits and protections previously denied to them under the discriminatory Defense of Marriage Act."
The ruling is the latest, and perhaps broadest, implementation of the DOMA ruling by the federal government to date. Earlier today, the Department of Health and Human Services issued a memo clarifying that the beneficiaries of private Medicare plans have access to equal coverage when it comes to care in a nursing home where their legally-recognized same-sex spouse lives, no matter where they live.
"We urge all federal agencies to the greatest degree possible to join the Treasury Department and the IRS in recognizing the legal marriages of all same-sex couples," Griffin added. "No family should have to worry about losing important federal rights and benefits, simply because they live in a state that doesn't recognize them as equal under the law."
[Photo: Jack Lew. Credit: U.S. Treasury Department photo.]