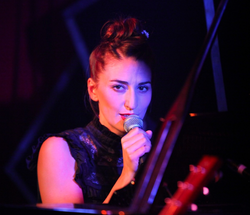 Yesterday, we told you about Janelle Monae. Turns out, she's not the only talented female singer-songwriter coming to the Lincoln Theatre in October — with tickets going on sale tomorrow, Friday, Aug. 23. There's also Sara Bareilles, the buoyant pop star touring in support of her appealing new album The Blessed Unrest, which includes her great pop anthem "Brave," co-written by fellow straight LGBT ally Jack Antonoff of fun. The song is bigger and brighter than Katy Perry's latest smash self-empowerment anthem "Roar," and also came first, by a few months — and that fact hasn't gone unnoticed. In any case, the song is also simply more gratifying, both sonically and thematically, with its message about the happiness that comes from coming out, or at least from being willing to stand out. And then there's that charming video, with a bunch of folks, Bareilles included, getting their amusing choreographed freak on — being brave as "normal" people look on and criticize them.
Bareilles will be a special performer at the 2013 HRC National Dinner Saturday, Oct. 5, but she's decided to stick around town and put on another show for those who don't have tickets to that already sold-out event. (Well, not really: She's got a show in Boston in between her two D.C. gigs.) But don't delay: Chances are, her Lincoln Theatre show courtesy of IMP Productions will sell out in advance too. And as you can see from a live performance of The Blessed Unrest track "I Choose You" — or hear from the live version of her first big hit "Love Song" (below), the 33-year-old's definitely got the goods to put on a good show.
Ticketsn sale Friday, Aug. 23, at 10 a.m., for Monday, Oct. 7, show at Lincoln Theatre, 1215 U St. NW. Tickets are $49.50. Call 202-328-6000 or visit thelincolntheatre.org or 930.com.
Visit Bareilles' website to see the full list of stops on her current tour.