"Every seat in the house has a little bit different experience of the show," says Jenny McConnell Frederick, referring to Rorschach Theatre's Neverwhere. As staged by Frederick in Atlas Performing Arts Center's black box Lab Theatre II space, there isn't one seating section but several, with folding chairs lined up at varying angles. There also isn't one clearly delineated stage, as the actors perform at several spots in different areas of the floor, as well as on elevated platforms that line the walls of the space. That "puts the audience right in the middle of the action," Frederick says. Yes, that means some of the action takes place behind you.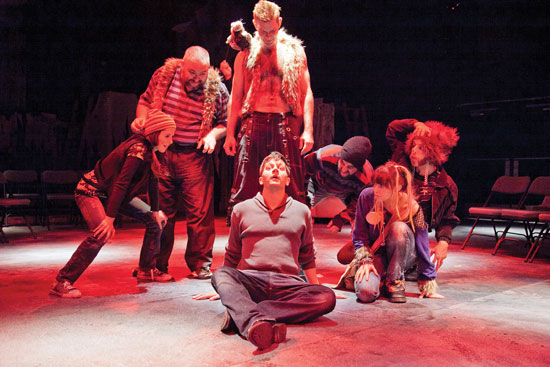 Neverwhere at Rorschach Theatre
(Photo by C. Stanley Photography)
Obviously, Neverwhere isn't your typical show. "I knew looking at the script that it needed something unconventional," says Frederick, who co-founded Rorschach Theatre with Randy Baker in 1999. "It's one of those stories where so much of it takes place on the move," Frederick explains. The story, as adapted by playwright Robert Kauzlaric from Neil Gaiman's best-selling fantasy adventure, follows a man, Richard Mayhew, whose life is turned upside down after he helps a wounded girl he literally stumbles upon one night on the streets of London. He gets sucked into "London Below," which Frederick describes as "the world of the unseen, the people who we pass by every day on the street and are ignored or kind of forgotten." Mayhew, Frederick continues, "kind of goes on an adventure to find out who he is and what he wants out of life … and meets all the creatures of London Below along the way."
It was the combination of the show's heartfelt characters and fantastical elements that sold Neverwhere to Frederick, who had previously only read Gaiman's Sandman comics. "We love scripts that have a little bit of magic, take us outside the everyday world," says Frederick, whose day job is as director of performing arts at CulturalDC and artistic director of its Source Festival. The challenge of the staging was a draw too: "Rorschach is known for staging things that are kind of impossible."
Neverwhere runs to Sept. 15, at the Atlas Performing Arts Center, 1333 H St. NE. Tickets are $15 to $30. Call 202-399-7993 or visit atlasarts.org.