After less than a year in Washington, having moved from Portland, Ore., as his partner, Michael Kaplan, took on the role of president and CEO of D.C.-based AIDS United, Sean Sasser, 44, has died.
According to Portland's PQ magazine, Sasser died Aug. 7 of the rare lung cancer mesothelioma.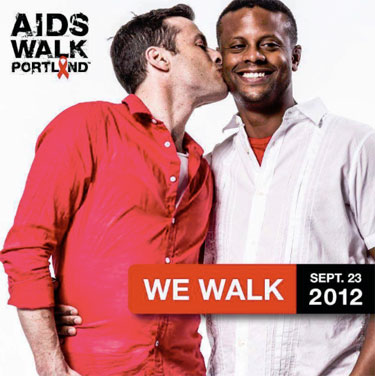 Kaplan (L) and Sasser
(Photo courtesy Cascade AIDS Project )
While new to D.C., Sasser was already well known in the fight against HIV/AIDS, having first gained notoriety as the partner of Pedro Zamora on MTV's The Real World: San Francisco, which aired in 1994. Zamora, who raised HIV/AIDS awareness in an unprecedented way via his MTV platform, died of AIDS-related progressive multifocal leukoencephalopathy in November 1994.
While in Portland with Kaplan, who served as executive director of Cascade AIDS Project, Sasser was literally the "poster boy" for the 2012 AIDS Walk Portland, appearing in promotional materials with Kaplan. While Sasser lived in D.C. a relatively short time, news of his death has hit Portland hard, with a vigil in his memory planned for this evening.
Though he lived in D.C. only a few months, he seemed to be settling in well, working as a pastry chef at the city's RIS restaurant and telling the Washington Blade newspaper in May, "I want to serve desserts and pastries that people recognize and love to eat, but sometimes with an unexpected twist of surprise."
Candace Gingrich-Jones, director of the Human Rights Campaign's Youth and Campus Outreach Program, while D.C.-based, worked with Sasser long before he arrived in the nation's capital.
"I had the honor and pleasure of working with Sean in our 'You've Got the Power: Vote' campaign in 1996," she posted on the HRC blog this morning. "It was a star-studded campaign with some big personalities, but Sean wasn't one of them – I remember him as down to earth, very passionate about his cause and always with a grin that easily turned into a smile. We could use more Seans – to bring visibility to the reality that HIV/AIDS is still a fact of life for many, especially young black men."
Byron Beck, who wrote the news of Sasser's death in Portland's PQ, was also a friend. As such, he wrote, "Sean wasn't one to talk about the past, or his days on The Real World. He was much happier making dinner (it always included a fabulous dessert) and talking to friends about their lives, not his. But Sean was a living, breathing angel. He would be embarrassed to hear anyone say that, but he truly was. He beamed with a light from within. He was incredibly patient and kind."
AIDS United also released a satement today. It reads, in part, "While we and the world have known Sean as a prominent AIDS activist, the AIDS United family also has known Sean as the devoted spouse of Michael Kaplan, who supported and accompanied him as the couple made a significant life transition from Portland, OR to Washington D.C. when we recruited Michael to take the helm of AIDS United in December, 2012. We shared Michael's pride as Sean's success as a celebrated pastry chef just continued to grow after their move to the District. We will always be grateful for Sean's support of Michael in Michael's new and often-demanding role as President and CEO. And we will certainly miss the generous samplings of his magnificent pastry creations that he occasionally shared with the AIDS United offices."
The organization also offered Kaplan's email address for those wishing to send messages of condolence to him directly at mkaplan@aidsunited.org. 
Should any details be released regarding a memorial event for Sasser in Washington, they will be added to this story.
[EDITOR'S NOTE: This story was updated Aug. 8 at 3:12 p.m. to include the statement from AIDS United.]