Given that just a couple weeks ago I argued that LGBT people should avoid seeing the upcoming sci-fi film Ender's Game because it's based on a novel by noted anti-gay zealot Orson Scott Card, I've had to think twice about my opposition to a boycott of Stolichnaya vodka in response to Russia's new law banning "gay propaganda."
Even at a glance, the misdeeds that have inspired the boycott efforts aren't truly comparable. Card has been a vocal opponent of marriage equality, using incendiary language in his condemnations of homosexuality and sitting on the board of the National Organization for Marriage, a position that would come with significant responsibilities for donating money to anti-gay campaigns. He's one man — albeit a well-known and well-off man — in a pluralistic, democratic society who's using his clout to promote policies based on his anti-gay religious beliefs.
The Russian government, under the rein of President Vladimir Putin and lawmakers deeply involved with far-right nationalist and religious groups, has passed an actual law banning "gay propaganda" — a law that prohibits any mention of homosexuality in the name of "protecting the children." Worse than the actual attempt to impose invisibility on Russia's still nascent LGBT community, the effort has sparked horrific violence and harassment of gays in the country, including vicious murders (one man was beaten, raped with beer bottles and had his head crushed with a stone) and nationalist gangs luring young gay men through online chats to be beaten, tortured and humiliated on video in broad daylight before multiple witnesses with no repercussions.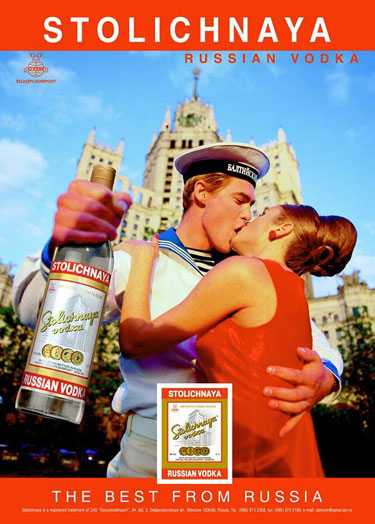 Stolichnaya ad
Frankly, the political and literary sins of Card pale in comparison to the brutality and evil being visited on LGBT people in Russia. It would seem obvious that if I support boycotting a piece of Hollywood entertainment I would support boycotting a top-shelf vodka like Stoli. But whereas Card is directly tied to the film both as an author and a producer, Stoli isn't connected to the government's anti-gay legislation. Exactly how Russian Stolichnaya actually is remains a matter of contention, with the corporation based in Luxembourg and engaged in a long-running battle with the Russian government over ownership.
While it doesn't carry the same stereotypical symbolism of gays declining to drink an expensive vodka, it would make more sense to target businesses like Lukoil, the Russian oil company that does some significant business in the United States, including a chain of gas stations. It's not as sexy, but given that oil money is part of the foundation of the Russian government's power (and corruption) it would go more directly to the issue at hand.
All that aside, it just seems frivolous in the face of such brutality to make a show of switching from Stoli to Grey Goose.
Many are calling for a boycott of the upcoming 2014 Winter Olympics in Sochi unless Russia rescinds the law. I'm not sure that's the best course of action, particularly since we didn't boycott the 2012 Summer Olympics in Beijing despite China's appalling record on human rights. But something major is needed, both in the name of LGBT Russians who face a nightmarish situation and of the LGBT athletes from around the world who may be threatened by both Russian law and lawlessness.
Advocating for the denial of travel visas for Russian lawmakers supporting the law is a small first step. Pressuring our own government to publicly and frequently denounce the law must be a priority, as well as ensuring our government and the International Olympic Committee secure the safety of both athletes and attendees at the Games. Our political and media organizations should be reaching out to both Olympic broadcaster NBC and the companies that will be advertising there about what messages they plan to send during the Olympics and how they will publicly address the plight of LGBT Russians.
If declining a Stoli and tonic makes you feel better, go for it. But don't forget to follow-up with other decisions and actions that make a bigger difference.
Sean Bugg is the co-publisher of Metro Weekly. He can be reached at sbugg@MetroWeekly.com and followed on Twitter at @seanbugg.