Remember John Waters's A Dirty Shame?
"I was the 'splosher,'" says Susan Rome, who played Messy Melinda. "I was the person who derived sexual satisfaction by splashing myself with messy stuff." It wasn't so sexy to her new husband, at least not when Rome would get home after a late-night shoot and have macaroni and cheese stuck in her ear. "My husband said, 'You look like Alice Cooper and you smell like a garbage dumpster," Rome laughs.
Among other film and TV roles, the Baltimore-based Rome repeatedly played DA Ilene Nathan on HBO's The Wire. But Rome is more often seen on area stages, and is currently appearing in a supporting role in Theater J's After The Revolution. Amy Herzog's play focuses on a political family struggling with the revelation that its patriarch wasn't the progressive hero he was mythologized to be. "I think it's really about disappointment," says Rome, who plays stepmother Mel Joseph, "and how families … deal with their disappointment with each other."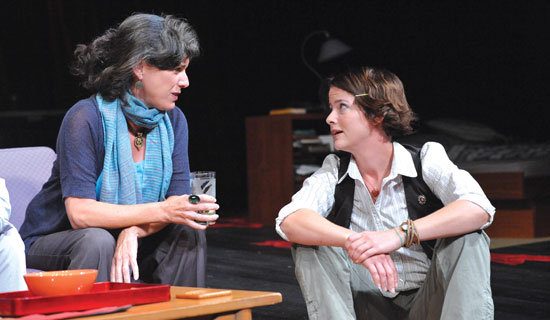 Susan Rome and Megan Anderson
(Photo by Stan Barouh)
Rome will appear in back-to-back plays at Theater J this season as the company's associate artist in residence. Next up she plays the lead role in Alexandra Gersten-Vassilaros's The Argument. "I'm playing a woman who just does not want to be a mother," says Rome, who calls the character Sophie "an anti-mom," but one who happens to find herself pregnant. The role is a bit of a departure for Rome, who plays a stepmother in After The Revolution.
"I realized I've been a Jewish mother in every single play," Rome says about her 13 years of regular work with Theater J. "And I became a mother within that time, and becoming a mother definitely changed me as a person for sure, but it also had an impact on my acting."
"I don't know how I pretended to be a mother before I was one," she continues. "That love is terrifying. I think I had just scratched the surface in any previous portrayal I had done. What you're willing to do for your child is pretty serious." — Doug Rule
After The Revolution runs to Oct. 6 at The Aaron & Cecile Goldman Theater, Washington, D.C.'s Jewish Community Center, 1529 16th St. NW. Tickets are $30 to $55. Call 202-518-9400 or visit washingtondcjcc.org.