Next weekend ushers in the National Book Festival on the National Mall, and later comes a locally focused day-long literary event at the Folger Library followed by the big annual Jewish Literary Festival. But there's plenty of silly to go with the studious and serious when looking for things to see and do beyond the traditional arts this season. From stand-up comedians to funny storytellers, drag kings and queens to Halloween costume parties, you'll no doubt stay entertained. Why, even your dog can get in on the act at Hillwood. How howlarious is that?
9:30 CLUB
815 V St. NW
202-265-0930
930.com
The Bentzen Ball Comedy Festival Opening Night — BrightestYoungThings presents a four-day comedy festival in October curated by comedian Tig Notaro and landing at venues The Sphinx Club, U Street Music Hall and the Lincoln Theatre, but the launch is at the 9:30 Club, with stand-up from, among others, Notaro, Doug Benson and Wyatt Cenac (10/10)
Comedy Bang! Bang! LIVE! — Scott Aukerman and IFC present this tour with special guest Paul F. Tompkins and opening act the Birthday Boys (10/15)
THE ALDEN
McLean Community Center
1234 Ingleside Ave.
McLean, Va.
703-790-0123
aldentheatre.org
Pat Hazell: The Wonder Bread Years — A salute to Baby Boomers written and starring this Seinfeld writer in a mix of stand-up and theater (10/26)
The Capitol Steps — Political satire from the best in the business (1/4/14)
The Gizmo Guys — Allan Jacobs and Barrett Felker are your comedy jugglers for the evening (1/12/14)
MLK Celebration: Andrew Young — A key strategist and negotiator during the Civil Rights era — and later mayor of Atlanta and U.S. congressman from Georgia — will reflect on his life's work and the future in "A Continuing Legacy" (1/17/14)
ARLINGTON CINEMA N' DRAFTHOUSE
2903 Columbia Pike
Arlington
703-486-2345
arlingtondrafthouse.com
Cool Cow Comedy Showcase – A 60-minute comedy show every Thursday night
ThreeGuysOn presents The Final Draft — Hosts of popular podcast present this comedy show every Friday night
Brad Wollack — The funny schlub (and butt of so many jokes) on Chelsea Lately (9/20-21)
Reel Rock Film Tour 8 — This film festival presents the best climbing and adventure films of the year (9/25-26)
Joe Matarese — Another familiar straight comedian from guest spots on Chelsea Lately (9/27-28)
Josh Wolf — Another familiar, straight comedian from guest spots on Chelsea Lately (10/4-5)
ARTISPHERE
1101 Wilson Blvd.
Arlington
703-875-1100
artisphere.com or cultureDC
Night of 1,000 Andys Dance Party — In conjunction with its installation of Andy Warhol's Silver Clouds, Artisphere presents a party that will culminate in a Warhol look-alike contest, but also feature performances by genre-busting costumed musical spectacle March Fourth Marching Band and electro/disco/funk duo Javelin, plus creative pop-art play stations (10/12)
Not So Silent Cinema Presents Nosferatu — As part of a Halloween Special Program, Artisphere presents Not So Silent Cinema's live Klezmer quintet accompanying a screening of Max Shreck's legendary 1922 silent film, Nosferatu, with haunting music, including Gypsy grooves and classic horror effects, that is both suspenseful and campy (10/26)
THE ATHENAEUM
201 Prince St.
Alexandria, Md.
703-548-0035
nvfaa.org
SLAM: Alexandria Poetry Slam (9/20)
Banned Book Week Read-Out — Various Alexandria poets, politicians and students will read excerpts from classic books that have been nonetheless been targeted and banned by overzealous leaders around the country (9/23)
Lost Books of Antiquity — Many of the great books of classical antiquity no longer exist, having been burned, traded, cut up, badly stored, written over or carbonized by the heat of volcanic eruptions (9/27)
ATLAS PERFORMING ARTS CENTER
1333 H St. NE
202-399-7993
atlasarts.org
Library Late: L'Etranger/Remix — An interdisciplinary visual and aural experience, including contemporary electronic music and original images mixed by video artists Orchid Bite, and centered on The Stranger by Albert Camus, in honor of his centennial year (11/8)
BLACK CAT
1811 14th St. NW
202-667-4490
blackcatdc.com
Dr. Who Happy Hour – One episode of Dr. Who and drink specials every Friday, for free
Hellmouth Happy Hour – One episode of Buffy the Vampire Slayer and drink specials every Saturday, for free
Gilded Lily Burlesque (9/20)
The 2013 Halloween Circus (10/31)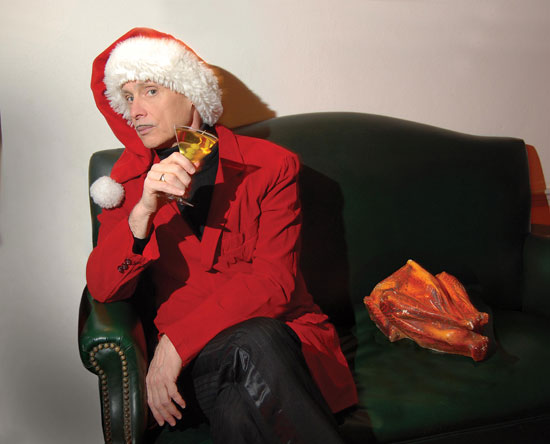 John Waters
(Photo by Todd Franson)
THE BIRCHMERE
3701 Mount Vernon Ave.
Alexandria, Md.
703-549-7500
birchmere.com
Gad Elmaleh — Three nights of stand-up from a French-Moroccan actor and comic — and all in French, bien sur (9/16-18)
The Official Blues Brothers Revue (9/27)
Wil Wheaton vs. Paul & Storm (10/3)
Belladonna & Ken Vegas Present Raven's Night 2013: Villains — Another year, another Halloween-pegged very LGBT-friendly "Dark & Decadent Belly Dance Show," with women in various attire, including male drag (10/26)
The Four Bitchin' Babes — "Mid Life Vices!" (11/9)
Paula Poundstone — If you wait too long to buy tickets, which are going fast, you'll be crying "Wait! Wait! Don't Tell Me It's Sold Out!" (11/16)
A John Waters Christmas (12/18)
BUSBOYS AND POETS
2021 14th St. NW
202-387-POET
busboysandpoets.com
Sunday Kind of Love Open Mic Poetry – Every week featuring emerging and established poets in an open-mike segment
Tuesday Night Open Mic Poetry – Wide-ranging topics and speakers for two hours every Tuesday
Story League Story Contest – Every third Wednesday of the month brings "story shows," or collaborative story-performing exercises in which storytellers get guidance on honing their craft; the best wins $100 (9/18)
SPARKLE Queer Open Mic – Queer-friendly, queer-focused reading series, hosted by Regie Cabico and Danielle Evennou (10/6)
Nine on the Ninth Open Mic Poetry – The 9th of every month, at 9 p.m.
The 11th Hour Poetry Slam – Opportunity for poetry lovers to enjoy the competitive art of late-night performance poetry (10/11)
CLARICE SMITH PERFORMING ARTS CENTER
University of Maryland
College Park, Md.
301-405-ARTS
claricesmithcenter.umd.edu
Orpheus' Son: The Life and Legacy of Sidney Lanier and His Music of Language — UMD Professor Gran Wilson interweaves music performance with poetry readings to introduce the poignant life story of a Baltimore poet and flutist, who taught at Johns Hopkins University and performed with the Peabody Symphony (9/26)
Sidney Lanier's "Science of English Verse" — UMD professor Gran Wilson offers a lecture about this American poet's poetry theory and techniques (10/3)
Crafting Inspiration: Why The Speeches of Abraham Lincoln and Martin Luther King, Jr. Still Motivate Us Today — WAMU's show host extraordinaire Kojo Nnamdi moderates a panel of communications experts to discuss the similarities and resonance of two speeches separated by almost 100 years (10/7)
Same Sex Marriage and the Faith Community: A Conversation about Equal Rights — Kojo Nnamdi moderates this panel discussing ways to reconcile biblical teachings and modern sexuality (11/12)
DAVIS PERFORMING ARTS CENTER
Georgetown University
3700 O St. NW
202-687-ARTS
performingarts.georgetown.edu
The Georgetown Improv Association – A monthly night of improv inspired by audience suggestions and showcasing the performers' (hopefully) quick wit (10/12)
Future of Music Summit 2012 — The only national conference that focuses on the connections between musicians and fans, policymakers and academics, legal experts and technologists, media professionals and entrepreneurs (10/28-29)
DC IMPROV
1140 Connecticut Ave. NW
202-296-7008
dcimprov.com
LaVell Crawford — Probably the biggest (literally) funny man in the business (9/13-15)
DC Improv Comedy School Comics – A night of improv comedy starring the house-grown troupe (9/20)
Dave Attell (9/20-22)
Funniest Celebrity in Washington, D.C. Contest — A benefit for the Final Salute Foundation (9/25)
Gary Valentine (9/26-28)
Earthquake (10/5-6)
John Caparulo (10/10-13)
Deon Cole (10/17-20)
Bert Kreischer (10/24-27)
Tony Rock — Chris's brother (10/31-11/3)
Steve Byrne (11/7-10)
Flip Orley — America's premier comic hypnotist (11/13-17)
Bob Marley — Not that Bob Marley, but the still-living comedian (11/20-24)
Donnell Rawlings (11/29-12/1)
Gary Owen (12/5-8)
Alonzo Bodden (12/12-15)
Rory Scovel (12/19-21)
Christina Pazsitzky & Tom Segura (12/27-29)
FOLGER SHAKESPEARE LIBRARY
201 East Capitol St. SE
202-544-7077
folger.edu
District of Literature: Our Literary District — Elizabeth Alexander, Edward P. Jones, E. Ethelbert Miller and George Pelecanos participate in a discussion about D.C.-based authors as part of a free, day-long festival (9/30, Lutheran Church of the Reformation)
Tom Perrotta & Maria Semple — The Human Comedy: Serious Humor in the American Novel authors read as part of the PEN/Faulkner Reading Series (10/22)
Mortally Beautiful: C.K. Williams and Stanley Plumly — Poetry reading and discussion (10/28)
Philip Caputo & Kevin Powers — Blood Lines: The Literature of War authors read as party of the PEN/Faulkner Reading Series (11/4)
The Anthony Hecht Poetry Prize: Shelley Puhak (11/18)
PEN/Malamud Award for Excellence in the Short Story: George Saunders (12/6)
Emily Dickinson Birthday Tribute: Peter Gizzi (12/9)
FORD'S THEATRE
511 10th St. NW
202-397-7328
ticketmaster.com
History on Foot Walking Tour – "Investigation: Detective McDevitt" follows an actor dressed up as a detective in the Civil War era investigating the Lincoln assassination (Saturdays through October)
In conjunction with its new production of The Laramie Project, Ford's Theatre offers a series of events about homophobia and hate crimes against minorities, among them, With Malice Toward None: Judy Shepard, a Mother's Response to Hate (9/30)
Panel Discussion: With Charity for All: Lives Changed by Hate (10/7)
Panel Discussion: To Bind up the Nation's Wounds: Communities Respond to Hate (10/21)
Panel Discussion: To Achieve and Cherish a Just and Lasting Peace: Envisioning a World Beyond Hate (10/28)
THE HAMILTON
600 14th St. NW
202-787-1000
thehamiltondc.com
Howard Gospel Brunch — Howard University's Howard Gospel Choir performs two hour-long shows every Sunday while diners enjoy a buffet at this Clyde's Restaurant Group establishment (every Sunday)
Newmyer Flyer Presents: Halloween Howl — Various local music acts, including Steve and Annie Sidleys, Laura Tsaggaris and Mark Noone, perform along with monsters from the last 40 years, from Werewolves of London to Thriller to Bad Moon Rising (10/25)
Janeane Garofalo — The liberal firebrand actress and comedian is celebrating 21 years in the business (10/26)
THE HOWARD THEATRE
620 T St. NW
202-588-5595
thehowardtheatre.com
Live Viewing Party: Mayweather vs. Canelo — A live broadcast from Las Vegas of one of the biggest fights in the history of the brutal sport of boxing; after the bloodbath, what better way to celebrate than with an after-party with DJ, live band, prizes and special guests? (9/14)
Howard Gospel Brunch — Another gospel-show-over-brunch option, this one featuring a house choir welcoming a different guest gospel star each week (every Sunday)
The Huggy Lowdown Comedy Throwdown (9/25)
Rev. Al Sharpton — The political provocateur-cum-TV-talk-show host talks about his new book, The Rejected Stone (10/12)
HILLWOOD MUSEUM & GARDENS
4155 Linnean Ave. NW
202-686-8500
hillwoodmuseum.org
Gay Day – Activities at the 12th annual Gay Day at Hillwood include an LGBT family garden party with Rainbow Families DC, "Punch on the Portico," exclusive peeks into rooms not usually open to the public, vintage cars from Straight Eights, and performances by singers from the a cappella group Not What You Think and DC Lambda Squares (9/28)
Hands-on Workshop: How to Get Your Orchid to Rebloom (10/5, 10/12)
Spooky Pooch Howl-o-ween Celebration – This one's gone to the dogs (10/26)
Fabulous Wreath Workshop (12/6-7)
Russian Winter Festival (12/15)
JEWISH LITERARY FESTIVAL
DCJCC
1529 16th St. NW
202-777-3250
washingtondcjcc.org
Selected Highlights: Opening Night: E.L. Doctorow — Celebrated novelist offers an exclusive preview of his newest book, Andrew's Brain: A Novel (10/6, Montgomery College Cultural Arts Center)
Mark Cohen: Overweight Sensation: The Life and Comedy of Allan Sherman — Hear long-lost parodies of Broadway favorites from this comedian, who 50 years ago released the hit "Hello Muddah, Hello Fadduh" (10/8)
Jeremy Dauber, The Worlds of Sholem Aleichem: The Remarkable Life and Afterlife of the Man Who Created Tevye — What would Jewish-American life be without Fiddler on the Roof? (10/9)
Ben Urwand, The Collaboration: Hollywood's Pact with Hitler (10/10)
Dan Savage, American Savage: Insights, Slights and Fights on Faith, Sex, Love and Politics (10/12, Foundry United Methodist Church)
Allen Salkin. From Scratch: Inside the Food Network (10/14)
Debbie Wasserman Schultz, For The Next Generation: A Wake-Up Call to Solving Our Nation's Problems (10/16)
JOE'S MOVEMENT EMPORIUM
3309 Bunker Hill Road
Mount Rainier, Md.
301-699-1819
joesmovement.org
Comedy Supreme's Anniversary Show: Abbi Crutchfield — A stand-up comedy show featuring an all-female lineup and a DJ between sets (10/12)
Late Night Expressions 2013 — Deviated Theatre co-produces this evening supporting local alternative performance artists (10/19)
Art Auction (11/2)
JOSEPH MEYERHOFF SYMPHONY HALL
1212 Cathedral St.
Baltimore, Md.
410-783-8000
ticketmaster.com
Amy Schumer — The American stand-up comedian and Comedy Central star (10/4)
Charlie Wilson (10/6)
David Sedaris — The gay hilarious author and essayist offers more jokes on tour (10/17)
KENNEDY CENTER
202-467-4600
Saul Lilienstein: Wagner at 200 — Musicologist examines the arc of artistic achievement that begins with Wagner's music and spreads across Europe to profoundly influence composers, writers and artists (10/12)
Saul Lilienstein: Verdi at 200 — Musicologist examines the musically rich middle period of Verdi, the most important of all Italian composers (10/26)
Ballet 360: The Magic of Swan Lake — Dance critic Alexandra Tomalonis uses video of well-known ballets to take us beyond the steps and into the fine craft of making a ballet (1/25/14)
LISNER AUDITORIUM AT GWU
730 21st St. NW
202-994-6800
lisner.org
Im Hussein Jubilee Show — Celebrating 25 years of comedy staged by the Ajyal Theatrical Group, the first Arab-American theatrical group in North America (9/21)
Richard Dawkins (9/29)
Mirman, Hodgman, Schaal — Sandwich to Go Tour (10/16)
David Sedaris — Reading and speaking from his new book Let's Explore Diabetes with Owls (10/18)
LINCOLN THEATRE
1215 U St. NW
202-328-6000
thelincolndc.com
Chazz Palminteri's A Bronx Tale — A one-man show from this Oscar-nominated New York actor, writer and director (10/3)
Bentzen Ball Comedy Festival feat. Ira Glass and Friends (10/13)
Cheech & Chong (10/24)
LYRIC OPERA HOUSE
140 West Mount Royal Ave.
Baltimore, Md.
410-547-SEAT
lyricoperahouse.com
Spank! The Fifty Shades parody (10/18)
So You Think You Can Dance (10/21)
NATIONAL BOOK FESTIVAL
National Mall
9th and 14th Streets NW
loc.gov/bookfest
President Barack Obama and first lady Michelle Obama are honorary chairs once again for the National Book Festival, now in its 13th year. The Library of Congress organizes the event featuring the nation's best and best-selling authors discussing their work and interacting with fans. Linda Ronstadt, Andrew Solomon, Hoda Kotb, Jonathan Hennessey, Evan Thomas, Terry McMillan, Christopher Buckley, Mark Helprin and Joyce Carol Oates are just a few of the many others on tap this year (9/21-22)
NATIONAL GEOGRAPHIC LIVE!
Grosvenor Auditorium
NGS Headquarters
1600 M St. NW
202-857-7700
nglive.org
Jonathan Alderfer: Bird Walk Adventure to Kenilworth Aquatic Gardens & National Arboretum — National Geographic author, artist and editor leads a day-long excursion to two Alexandria parks home to hundreds of species of birds (9/21)
Jonathan Alderfer: Bird Walk Adventure to Huntley Meadows & Dyke Marsh — National Geographic author, artist and editor leads a day-long excursion to observe waterfowl and migratory birds (10/5)
Michael "Nick" Nichols, Earth to Sky: Among Africa's Elephants, A Species in Crisis — One of the world's leading wildlife photojournalists shares stories and reads from his forthcoming book advocating for the protection of elephants, whose survival is threatened by humankind (10/15)
David Pogue and The Science of Everything — The New York Times technology columnist leads an evening of discovery based on a new National Geographic book (11/4)
Tim Cope: On The Trail of Genghis Khan — Explorer discusses his recent 6,000-mile expedition by horse from Mongolia to Hungary (11/7)
Steve Winter and Sharon Guynup: Tigers Forever — Award-winning wildlife photographer and author talks about his forthcoming National Geographic book about two of the planet's iconic felines, the tiger and the cougar, and efforts to save them (11/19)
Richard Crawford: The Whiskeys of Scotland — Sample whiskies from Scotland led by this James Beard Award winner (11/22)
Rhett Allain, Peter Vesterbacka: What Makes Angry Birds Soar? — Author of the book Angry Birds Furious Forces!: The Physics at Play in the World's Most Popular Game discusses the No. 1 paid iPhone app of all time alongside the head of the company, Rovio, which created the franchise (12/4)
RAM'S HEAD ON STAGE
33 West St.
Annapolis
410-268-4545
ramsheadonstage.com
Capitol Steps (9/28)
Jim Belushi & The Chicago Board of Comedy (11/1)
Paula Poundstone (11/15)
SIXTH & I HISTORIC SYNAGOGUE
600 I St. NW
202-408-3100
sixthandi.org
Lee Camp w/Brian Parlse — "Comedy, Revolution and Beer" is the name of the new one-man show from this man who stole the spotlight at Sixth & I's Downstairs Comedy show; opener won first place in Pardon the Pundit's Political Comedy Competition (10/19)
Jeff Ross — Host of Comedy Central's The Burn with Jeff Ross performs his no-holds-barred style of comedy that has earned him the nickname of "Roastmaster General" (10/27)
Maria Bamford — Hilariously dead-panned and delightfully off-kilter comedian (11/9)
SPEAKEASYDC
240-888-9751
speakeasydc.com
Solo Double Feature: Anne Thomas, John Donvan — Attorney and advocate Thomas reads "No More Helen Keller Jokes: Stories of Living Large Through the Seat of My Pants" while ABC News' Donvan reads from "Lose The Kid" (Remaining dates 9/14, 9/21, 9/28, Mead Theater Lab at Flashpoint)
What Was I Thinking? — A night of (hopefully) hilarious true stories about mistakes, missteps and things that went horribly wrong (9/29, Birchmere)
Going Viral — Stories about things that spread, invade and multiply (10/8, Town Danceboutique)
Keeping up with The Joneses — Stories about climbing, covering and competing (11/12, Town Danceboutique)
Destiny's Child — Stories about fate, serendipity and coincidence (12/10, Town Danceboutique)
STRATHMORE
5301 Tuckerman Lane
North Bethesda
301-581-5100
strathmore.org
Bill Engvall — The Blue Collar Comedy Tour staple is way out of his element in North Bethesda (10/6, Music Center)
Amy Tan — The Joy Luck Club author stops by for an evening discussion (11/15, Music Center)
WARNER THEATRE
513 13th St. NW
202-397-SEAT
warnertheatre.com
The truTV Impractical Jokers Tour feat. The Tenderloins (10/4)
John Oliver — A night of standup from the sub-par sub host for Jon Stewart this summer on Comedy Central's The Daily Show (11/8)
Margaret Cho – Queer comedian's new standup show, Mother, offers an untraditional look at motherhood and strong women but, sadly, little riffing on her own mother (11/9)