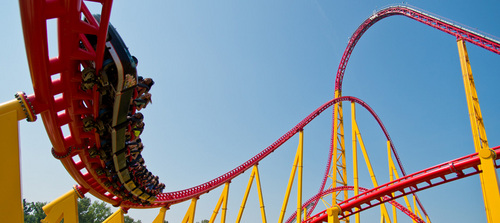 Disabled for nearly the entire summer season due to a delay in replacing a failed part, Kings Dominion's Intimidator 305 coaster will reopen Sept. 14.
The central Virginia amusement park announced earlier this week that the Intimidator 305 and two of its other coasters were named in the "Top 50 Steel Roller Coasters in the World" category by Amusement Today's annual Golden Ticket Awards.
At 305-feet tall and reaching speeds of 90-miles per hour, the Intimidator 305 made the list at No. 10, with Volcano: The Blast Coaster and Dominator coming in at 39 and 47, respectively.
The reopening of the Intimidator 305 will coincide with the park's annual gay and lesbian night sponsored by Brother, Help Thyself (BHT), a community-based organization providing support to nonprofits that serve the LGBT and HIV/AIDS communities in the Baltimore-Washington metro area.
Since its founding more than 30 years ago, BHT has raised more than $2 million, which it has distributed to more than 130 groups. Gay and Lesbian Night at Kings Dominion continues to be one of the organization's main fundraisers. This year's event will take place Saturday, Sept. 14, from 8 p.m. to 1 a.m. Tickets are $35 when purchased online and $37 at the gate. Complete details are available at brotherhelpthyself.net.