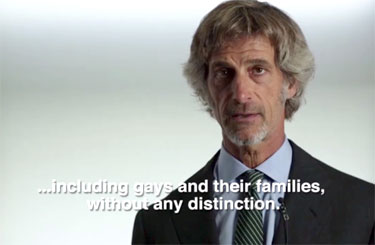 On Wednesday, pasta company chairman Guido Barilla remarked that he would not depict "a homosexual family" in Barilla's advertisements because he "didn't agree with them."
Reaction on social networks and in the media was swift and harsh, with some calling for a boycott even after the world's largest pasta maker issued apologies. On Thursday the company wrote on Facebook:
"At Barilla, we consider it our mission to treat our consumers and partners as our neighbors – with love and respect – and to deliver the very best products possible. We take this responsibility seriously and consider it a core part of who we are as a family-owned company. While we can't undo recent remarks, we can apologize. To all of our friends, family, employees, and partners that we have hurt or offended, we are deeply sorry."
On Friday, Guido Barilla, appeared in a Facebook video, to say in English:
"Yesterday, I apologized for offending many people around the world. Today, I am repeating that apology. Through my entire life, I have always respected every person I've met, including gays and their families, without any distinction. I've never discriminated against anyone. I have heard the countless reactions around the world to my words, which have depressed and saddened me. It is clear that I have a lot to learn about the lively debate concerning the evolution of the family. In the coming weeks, I pledge to meet with the representatives of the groups that best represent the evolution of the family, including those who have been offended by my words."
Meanwhile, rival pasta maker Buitoni posted a message in support of gay couples: "Past for all," accompanied by same sex symbols made out of tortellini.