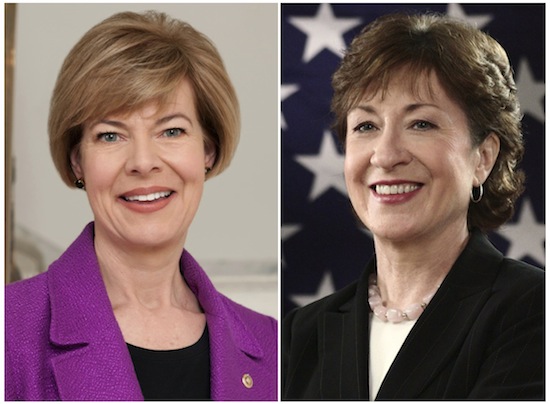 A bipartisan effort is underway on Capitol Hill to secure equal benefits for the domestic partners of federal civilian employees.
While the Office of Personnel Management has ordered federal benefits be made available to federal employees' same-sex spouses in the wake of the Supreme Court's decision striking down Section 3 of the Defense of Marriage Act, that order applies only to legally married same-sex couples, leaving countless other committed same-sex couples who do not have the ability to marry without access to benefits. The Domestic Partnership Benefits and Obligations Act seeks to remedy that problem.
Introduced by Sens. Tammy Baldwin (D-Wis.) and Susan Collins (R-Maine), the legislation would provide same-sex domestic partners of federal employees access to all federal employee benefits current federal employee spouses receive, regardless of where they live.
"We've made great progress for committed, same-sex couples in America but we still have work to do to move freedom and fairness forward," stated Baldwin, who first co-sponsored the legislation in the House in 1999. "This bill helps provide federal employees and their domestic partners equal access and opportunity to the benefits that businesses across our country are already providing. It's time for the federal government to lead as an equal opportunity employer and I'm proud to work across the aisle with Senator Collins to advance that leadership."
According to Collins, the bill would bring the federal government inline with a majority of Fortune 500 companies, many of which have extended employee benefit plans to cover domestic partners.
"This change is both fair policy and good business practice. The federal government must compete with the private sector when it comes to attracting the most qualified, skilled, and dedicated employees," Collins said in a statement. "Among Fortune 500 companies, for example, domestic partner benefits are commonplace. According to the Office of Personnel Management, nearly 60 percent of Fortune 500 companies, including some of our top federal contractors, extend employment benefits to domestic partners."
Moreover, 24 states, D.C. and more than 100 local governments offer benefits to public employees in domestic partnerships, according to the Human Rights Campaign.
Companionship legislation was also introduced in the House by Reps. Mark Pocan (D-Wis.), Gerry Connolly (D-Va.), Ileana Ros-Lehtinen (R-Fla.) and Richard Hanna (R-N.Y.)
If the bill is enacted, federal employees and their same-sex domestic partners would be eligible to participate in federal retirement, life insurance, health, workers' compensation and Family and Medical Leave benefits. According to Baldwin's office, such employees and their domestic partners would also be responsible for the same obligations as those that apply to married employees and their spouses, such as anti-nepotism rules and financial disclosure requirements.
With same-sex marriage legal in only 13 states and D.C., the bill would ease the burden on federal employees and their same-sex spouses who must travel to another state to legally marry, and who can be exposed to discrimination when they return home if their state does not have workplace protections.
"[The Domestic Partnership Benefits and Obligations Act] is about the basic concept of fairness in the workplace," said HRC Legislative Director Allison Herwitt in a statement. "Corporate America has led the charge in offering equal pay for equal work, and the U.S. Supreme Court sent a message this summer that the Federal government should follow their lead. Equal workplace policies, like those DPBO would enact, will help attract and retain the best and brightest talent, which is exactly what our federal workforce needs."
[Photos: Tammy Baldwin (left), Susan Collins. Credit: U.S. Senate.]