"Torch Song Trilogy had a very big emotional impact upon me when I saw it the first time around," Michael Kahn says. Of course, that was over 30 years ago, when Harvey Fierstein's play broke new ground as a Tony Award-winning hit play built on gay themes, with a lead character who is both gay and a drag queen. Kahn, whose main gig is as the Shakespeare Theatre Company's artistic director, hadn't thought much about the play in the intervening decades until Studio Theatre's David Muse asked him to make a directorial debut at the 14th Street venue. "I knew that I wanted to do a play by a gay writer, so I re-read a bunch of plays and fell in love all over again with Torch Song."
The play, which focuses on a gay man's struggles to find love and respect in relationships with men, as well as his hidebound, homophobic mother, is one that affects everyone, especially every LGBT person — even today.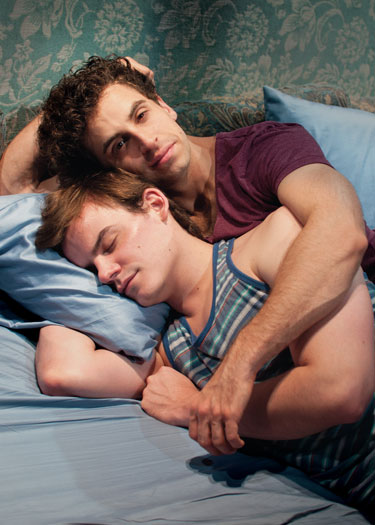 Torch Song Trilogy: Brandon Uranowitz and Alex Mills
(Photo by Todd Franson)
"In rehearsal, quite often we would be reading a scene or something and we'd all end up in tears," Kahn says about the seven actors he cast for the production that opens Studio Theatre's new season. "We all decided we couldn't do the play like that, but there's just something about the [characters] being so human and so vulnerable and so often wrong…. It affected all of us."
"It's still relevant today," says Alex Mills, who plays Alan, lead character Arnold Beckoff's lover. "It's not just this time capsule that we're bringing back for nostalgia's sake."
Studio Theatre's production of Torch Song Trilogy is the first in D.C. in decades. Mills thinks part of the reason it's so rarely performed is the show's length: Studio's version is a daunting three-and-a-half hours, with two intermissions. Of course, Shakespeare's plays are often near the same length. "If the play is compelling, you don't really think about the time," Kahn avers. "And the extraordinary thing about this play is it's emotional, but it's also very funny. And I think it's brilliantly constructed. Just when it gets emotional, there's a joke. And when it gets jokey, there's a scene that'll break your heart."
An even bigger challenge in staging Torch Song Trilogy is finding the right cast. "A couple roles were hard to cast, but the big one was Arnold," Kahn says, about the lead character, a role Fierstein wrote for himself — and a character who's always on stage the entire length of the show. "It didn't have to be anybody that looked like Harvey Fierstein or talked like Harvey Fierstein," Kahn adds. "It just had to be somebody who could be this character."
"I saw lots of people, and a lot of great actors," Kahn continues, "but [none] able to find their way into being Arnold." That is, until — really, truly — the last day of auditions, when Brandon Uranowitz walked in. "I didn't know Brandon, and I had no idea who he was," Kahn says. "It was like some light came on in the room."
Once Uranowitz proved he wasn't just a one-note actor, but was able to take on a variety of scenes and just really be Arnold, "I knew then that I could do the play," says Kahn.
"It's kind of crazy how 'on' [Uranowitz] was from Day 1," Mills agrees. "There's another 50 percent of jokes that he gets because of just the details he's put in with his physical behavior and mannerisms. He's completely fleshed out the character — which is why it's so brilliant to watch."
Critics agree. The Washington Post's Peter Marks even went so far as to suggest Uranowitz should star in every future production of Torch Song Trilogy, calling his portrayal "an Arnold Beckoff for all (theater) seasons."
The 27-year-old Uranowitz isn't a total newcomer to the stage. Among other things, in recent years he was in the national tour of Rent and he made his Broadway debut in the 2011 jukebox musical Baby, It's You. But Studio's Torch Song Trilogy is shaping up as a breakout role for Uranowitz. At the least, there's a good chance we'll see the New York-based actor again onstage in D.C. After all, in an interview with Metro Weekly Uranowitz says he'd like to do more Shakespeare. While noting that nothing has been discussed, Kahn, of the Shakespeare Theatre Company, adds: "I'm very eager to see what else Brandon can do — and to do it with him."
METRO WEEKLY: How daunting was it to even consider playing Arnold Beckoff, a role still so closely tied to the man who created it?
BRANDON URANOWITZ: Well, I've never seen the movie, and I wasn't born yet when it was on Broadway. So the only thing that I could sort of gather was the tone, and what I know of Harvey's other work in other things. It was never my intention to do an impression or anything of Harvey. What happens to be on the page is very Harvey Fierstein, and so I assume that what I do hints at things that Harvey has done.
It was obviously daunting and terrifying because those are big shoes to fill. But I sort of had to make it my own in order to really give the emotional depth and the comedy and all of that any sort of truth. Because otherwise if I was just doing an impression, or if I just had Harvey in the back of my mind the whole time, something about that would seem false to me. So if I wanted Arnold to really become a human being, I needed to let that go, and put myself in there, and take the stuff off the page and put it in me and try to find my version of him.
MW: You've definitely made the character your own. Obviously, you don't have the voice, but I did wonder about your very comic, exaggerated mannerisms and moves: How much of that is naturally you and how much is what you were inspired to do because of the character?
URANOWITZ: [Laughs.] I guess I discovered all of that working on this show. I think all of that lives inside me to some extent. But I feel like this part allows me to explore the extreme parts of my character and parts of my personality that I can give on a daily basis. But for this character and for this show, I feel like I'm allowed to let them out of their cage a little bit and play. I guess they're part of me, but it's not really how I behave in my personal life. I think they exist inside of me, but getting to know Arnold more and more through the rehearsal process, it sort of came to the surface a little bit more.
MW: Well, it's pretty amazing to watch. So much of the script and what your character says is funny to begin with, but you've added another level with your body language alone.
URANOWITZ: Oh, well good, that's the goal I think. You know, we could all just read Harvey's script and laugh, because it's a beautiful, hilarious piece. But Arnold's also a person. And this person says these things, these zingers and these one-liners, so it seems to me that this person would probably act a certain way as well.
MW: How much do you identify with the role and the struggles Arnold went through, such as coming out?
URANOWITZ: My coming-out process was fairly smooth, because I just have wonderful, supportive, amazing parents. But for those big emotional scenes, I guess you just have to kind of dive into that well of fear that any gay man has I think when they're thinking of coming out. Any gay man growing up thinking about that process has the fear of a negative outcome, no matter how supportive or amazing your parents might be. Or not even just your parents, the people around you. So I think especially for those big scenes it was just trying to get in touch with what that felt like — the unknown and the fear of having to deal with the possibility of a negative/adverse reaction to coming out.
MW: Have you done much camp or comedy before? Or even drag?
URANOWITZ: Never done drag before. Never played a gay character before, actually. So this is the first on those fronts for me. It's like playing dress-up, living out all the fantasies you have as a little gay boy wanting to put on lipstick.
I've done comedy — Brighton Beach Memoirs and Broadway Bound out at the Old Globe in San Diego. There's a very specific Jewish dryness and a Jewish tone that I grew up with, so doing Neil Simon or even playing this part, the comedy just sort of feels natural, and the intonations and the rhythms are stuff that I grew up with.
MW: How familiar were you with this play?
URANOWITZ: I had read it – I want to say in high school. I remember being completely moved and amazed by it, but also being a little scared of it, because I wasn't out yet. I was dealing with my sexuality, secretly, on my own, in my own head — so I think I just sort of brushed it off.
But it's like one of those things that makes an impact and then sort of recesses into your subconscious and inspires a lot of the things that you do, but you don't really consciously think about it. I think it just sort of lives there forever. I never really thought about it until my agent called me with the audition appointment for the play. And then I re-read it, in my bed, alone, in my apartment in New York, laughing and sobbing. I had totally forgotten about it.
MW: Well, it's had quite a legacy. It was groundbreaking for its time, but even though it's set in its time period, the turn of the 1980s, it still has relevance today.
URANOWITZ: I know! That's what was so amazing to me about it, when I read it again. What else was so amazing to me was that it hasn't been done [much] at all since it premiered back in the '80s. And it's still so relevant, which is kind of wonderful to me. It's pre-AIDS, before the AIDS epidemic and before that tragedy. So it's nice to have a play where you can really just sort of focus on the relationships and the love — the love story — and not cloud it by this massive, massive tragedy, and you don't have to look at it through that lens. You can really just focus on the people, and what they want, and what they deserve and what they're entitled to. It's still so relevant.