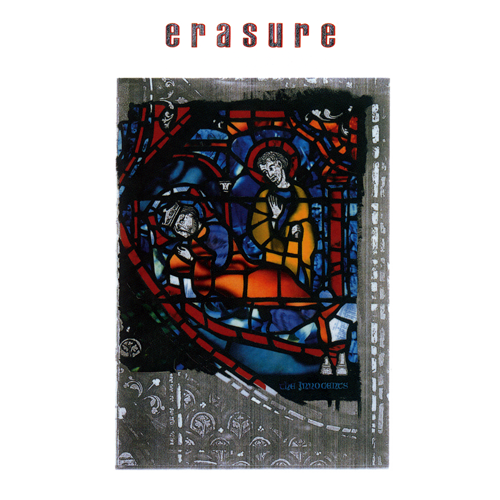 Vince Clarke had already been a founding member of two pivotal new wave bands by the time he joined forces with powerhouse vocalist Andy Bell in 1985 to form Erasure. Clarke started with Depeche Mode and was the principle songwriter for their debut album, 1981's "Speak and Spell." The album yielded three hits, including the pop/new wave standard "Just Can't Get Enough." Clarke left Depeche Mode after one album to form the synth-pop duo Yazoo (known as Yaz in America) with Alison Moyet. Both of their albums, 1982's "Upstairs at Eric's" and 1983's "You and Me Both" are new wave essentials, and their hits "Situation," "Only You" and "Don't Go" are all regarded as '80s classics.
Clarke and Moyet soon decided to break in different directions, with Moyet launching what would become a long and successful solo career (her recent album "The Minutes" is outstanding), and Clarke working on a couple of minor projects before finding the vocalist with whom he'd end up collaborating for nearly 30 years and counting — Andy Bell.
Erasure's debut album "Wonderland" was released in the summer of '86, and despite following closely to the spritely pop formula that was so successful with Yazoo, it failed to ignite significant sales. None of the singles — "Who Needs Love Like That," "Heavenly Action" and "Oh L'amour" — did particularly well at the time in the UK, but they did get some traction in US dance clubs and in Europe. It was enough to build momentum for their second album, 1987's "The Circus," which became a commercial breakthrough thanks to lead single "Sometimes," which hit the Top 5 throughout Europe including #2 in the UK. Subsequent singles "Victim of Love" and "It Doesn't Have To Be" also became European hits, and while they weren't yet embraced by MTV or radio in the US, these singles all became dance-club favorites in America. Momentum continued to build.
By the time Erasure teamed with producer Stephen Hague — who had already scored major hits with O.M.D. , New Order and, most notably, with the Pet Shop Boys' "West End Girls" and "It's a Sin" — the stage was set for Erasure's third album to be their most successful yet. Hague's sound was right for the time and for the songs, and the duo had loads of great material for the album that would become "The Innocents."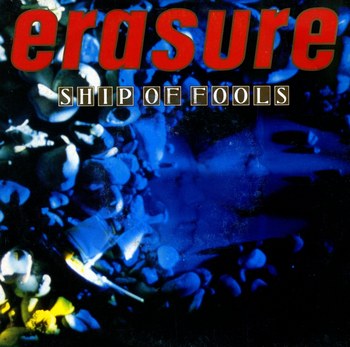 In the UK, first single "Ship of Fools" was a calculated risk. Erasure had never before released a ballad as a single, let alone as a lead single for a new album, but it proved a shrewd choice. It showcased the duo's expanding sound and songwriting talents and affirmed that they weren't just a dance band. With its serpentine keyboard riff and Bell's heartfelt lower-register vocal, "Ship of Fools" was far more dramatic than anything they had done previously in terms of feel and subject matter: "He was the baby of the class, he was so young and so uncertain… suffer little children, oh what a poor soul."
The gamble paid off. Released in February 1988, two months ahead of the album, "Ship of Fools" landed the duo their fourth UK Top 10 and built anticipation for what would become their first of a string of #1 UK albums, "The Innocents."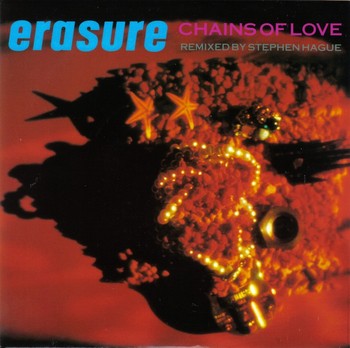 In America it was "Chains of Love", a buoyant dance-pop confection, that proved impossible for MTV and US radio to ignore. It crossed over from the dance clubs onto the pop charts, climbing all the way to #12 on the Billboard Hot 100. By crossing over to significant success on the US pop chart, Erasure managed a feat that many other seminal European synth-pop acts were never able to achieve.
The 2nd US single (and 3rd in the UK), "A Little Respect," has become an anthem that is still guaranteed to get a room full of guys to sing along at the top of their lungs (regardless of their ability to hit the high notes). Andy Bell's sublime vocal performance showcases his full range and builds into an escalating chorus that was perfect for both radio and the dance-floor. Like on their breakthrough single "Sometimes," Vince Clarke combines a rhythmic acoustic guitar with a rather simple yet effective keyboard riff, with swirling overlapped synthesizers to provide atmosphere and texture. It's one of those fortunate combinations that just comes together and sounds magical — a perfect pop single if there ever was one. "A Little Respect" was a major hit on the dance charts and also followed "Chains of Love" up the US pop charts, reaching #14. It remains arguably the duo's most instantly recognizable song.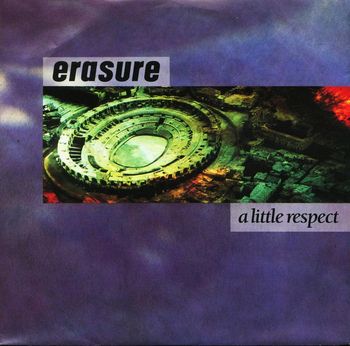 Oddly, only three singles were released from "The Innocents," an album with no shortage of strongly commercial material. Perhaps the duo were anxious to release their high-energy "Crackers International" EP and its feature track "Stop!", which hit stores only a month after "A Little Respect" was released. But it seems a shame, and in hindsight a major misstep — "The Innocents" was cut far too short from a promotional standpoint. It contains tracks that would have undoubtedly ended up on Erasure's greatest hits collection if they'd been given a chance. The decision to release "Crackers International" rather than continue to build on the success of "The Innocents" put an abrupt halt to their success on the US pop singles charts.
"Phantom Bride," for instance, would have been a hit for sure (and indeed it finally received a commercial single release nearly a quarter century later in remixed form supporting the anniversary re-release of "The Innocents"). "Heart of Stone," another up-tempo, catchy and soulful pop tune that is notable for adding some horn riffs to the trademark Erasure formula, is another obvious single that inexplicably remained as an album track.
"Yahoo!" is an almost straightforward gospel raver hidden as dance-pop tune, complete with a soulful trio of background vocalists (one of whom, Caron Wheeler, would go on to major success singing with Soul II Soul). "Hallowed Ground" is another standout track. Sharing the more serious vibe as first single "Ship of Fools," "Hallowed Ground" features some of Bell's strongest vocals on the album and veers further into social commentary than the typical Erasure track. "Down on the corner sits a broken man… live by the bottle, swears "never again"… lost his money on the dogs and gin, now he looks for his supper in the garbage can." The slow-building arrangement, especially during Bell's double-tracked vocals, and Stephen Hague's production are particularly effective here, and the tune resonates strongly a quarter-century after its release.
There's only one misstep on "The Innocents" — the inclusion of instrumental track "Sixty-Five Thousand." It's a pleasant enough song but is a bit of a throwaway. They had better material available, like the poignant ballad "When I Needed You" which ended up hidden away as a b-side. Other b-sides included the melodramatic "Love is Colder Than Death" and the catchy "Don't Suppose", either of which would have been better suited for the album. That said, it's hard to be too critical. "The Innocents" became the duo's signature recording that brought them their most significant international success (especially in America). It's one of the great pop records of the '80s, and has endured as a fan favorite. "The Innocents" only peaked at #49 on the Billboard Album Charts at the time of its release in 1988, but it continued to sell slowly and steadily and in October 1991, over three years after its initial release, "The Innocents" was certified platinum in the US by the RIAA.
"The Innocents" is a particularly iconic album in the gay community. Andy Bell was never very much in the closet (in Erasure's very first video, "Who Needs Love Like That," he was garbed in flamboyant drag), and in the '80s very few openly gay artists were making any headway on the US pop charts without being coy about their sexuality. Pet Shop Boys, for example, were initially far more subtle about their sexual references (tracks like "Later Tonight," for instance, about a furtive late-night gay encounter), whereas Erasure was more overt and obvious on songs like "Hideaway." Andy Bell's audaciously campy take on Tina Turner's "River Deep, Mountain High" — included as a bonus track on "The Innocents" — left little to the imagination. Erasure are rightly regarded as pioneers in opening doors for openly gay artists. Unfortunately, perhaps for that very reason, crossover success on the American pop charts would be fleeting for Erasure. Their next album, "Wild!", was marketed by Sire Records in the US mostly for the dance clubs, and none of the singles even charted — a travesty considering that they were coming off of an album that yielded two Top 20 pop hits, and "Wild!" was a record loaded with commercial tracks like "Blue Savannah" and "Drama". Did Sire consider them "too gay" for continued pop crossover success, or did radio and MTV make the decision to back away from them? The duo would later have a surprise Top 10 in the '90s with the wonderfully beautiful ballad "Always," but Erasure's American success over the years has been mostly limited to the dance floor and their predominantly gay fan base. "The Innocents" proved to be their high-water mark commercially. The last time an Erasure single got any significant traction on the US charts was the ballad "In My Arms" from the "Cowboy" album, 16 years ago.
Despite not getting the mainstream attention in the US that they deserve, Erasure continues to record and put out great records (their upcoming holiday album, "Snow Globe," is due on November 11), and tour the US as well as Europe, playing new songs and oldies to enthusiastic crowds. They've had some great albums and dozens of terrific singles, but "The Innocents" stands 25 years later as the pinnacle of their legacy. It is unquestionably one of the quintessential pop albums of the late '80s.