One of my instinctual reactions to bad news or worse people is humor, which is why I've always enjoyed writing about Ken Cuccinelli, Rick Santorum and other intellectual luminaries of the far right. Jokes make me feel better about their odious ideas and (I hope) deflates their hateful pomposity.
Other situations, though, are far beyond my ability or desire to crack wise. Say, perhaps, a Navy Yard building where 12 people were shot to death for no reason other than they showed up for work on time on a Monday morning. I've got nothing for that.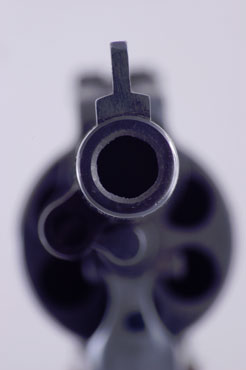 (Photo by imaginewithme/iStock Photo)
That would seem to leave me with my second instinctual reaction, anger. Appropriate enough, given that a man with apparently documented anger and mental-health issues, along with a history of using guns to express that anger, walked into a military building and killed a dozen people before dying himself in a shoot-out with police.
I should feel angry. I should want that anger to be a part of a much needed movement to change our country's lack of effective laws and controls.
But at this point I feel less angry than numb. We live in a country where a mentally disturbed teenager can march into an elementary school with his mother's survivalist arsenal and blow 20 first-graders into literal pieces. That made me angry. It made everyone angry, angry enough to finally draw a line, angry enough to demand our politicians enact the background checks and other laws that the vast majority of the public supports.
We were furious. Nothing changed.
Having a classroom filled with the shattered bodies of children wasn't enough. The constant drip of stories of children shooting themselves and each other with their family guns wasn't enough. The shooting death of an "open carry" advocate by her husband in a domestic disturbance that became a murder/suicide wasn't enough. A gun-safety trainer shooting a participant in his gun-safety class wasn't enough. An armed man shooting himself in the leg and lying to the police that a gang of black kids did it wasn't enough.
We're numb.
We're numb to the political power of the National Rifle Association, an organization that's grown so radical and virulent that it's begun skating up to the line of calling for armed rebellion. We're numb to the money of the few that ensures our laws make buying and using a gun easier than buying and driving a car. We're numb to politicians so craven and lickspittle that even when one of their own is shot they would never dare disturb the NRA purse strings that have replaced their spinal columns.
There is no price to pay for kowtowing to the NRA's merchants of death. The radicalism of a few will continue to promote open carry, easy access, no background checks, all the policies that keep leading to carnage.
The only price being paid is the ever growing stack of bodies from shootings both small and large. I suppose we've decided that we can afford it. It's just the cost these days of living in America.
That leaves me with the only reaction I have left. Despair.
Sean Bugg is editor emeritus of Metro Weekly and the executive director of the Next Generation Leadership Foundation. Follow him on Twitter @seanbugg or email him at seanbugg@gmail.com.