The DC Center, the District's LGBT community center, has announced two new autumn initiatives in the areas of combating anti-LGBT violence and promoting better health.
First, the center's anti-violence program, Gays and Lesbians Opposing Violence (GLOV), will receive a $60,000 grant from the Mayor's Office of Victims Services (OVS) to expand work in addressing bias-based crimes in the District, including providing sensitivity training to members of the Metropolitan Police Department (MPD), community education, and directing victims of violence to appropriate resources. GLOV will also be collaborating with Helping Individual Prostitutes Survive (HIPS) to expand HIPS's crisis hotline to serve all members of the LGBT community who are victims of violent crimes.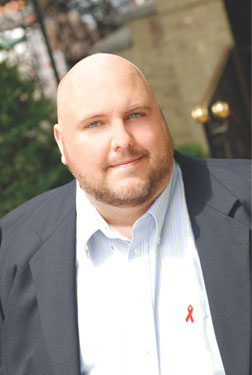 David Mariner
(Photo by Todd Franson)
"On behalf of The DC Center and GLOV's volunteer membership, we are excited to receive increased support from the Office of Victim Services to increase awareness about bias-based violence and better serve the LGBT community," GLOV co-chairs Hassan Naveed and Matthew Corso said in a statement. "We look forward to working with the D.C. government to expand these critical efforts."
Second, starting Oct. 1 the center will helping uninsured members of the community enroll in private insurance or Medicaid using DC Health Link, the local exchange established in accordance with the Affordable Care Act (ACA). That initiative is part of a partnership with HealthHIV, which received a grant through the DC Health Benefit Exchange Authority.
According to The DC Center, 42,000 people in the District are living without health insurance, and LGBT people are less likely than others to have health coverage.
"This is an important opportunity to engage our communities in a conversation about healthcare and for us all to better understand the changes that are taking place in the healthcare system," said David Mariner, The DC Center's executive director, in a statement. "Our goal is to help 300 individuals enroll in a healthcare plan, and to make the process as simple as possible for them."
For more information on GLOV or the upcoming health-insurance initiative, contact The DC Center at 202-682-2245 or visit thedccenter.org.