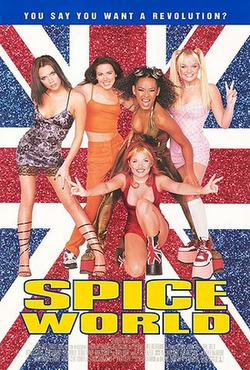 Every weekend, Landmark's E Street Cinema screens a cult classic as part of its Midnight Madness screening series — most famously The Rocky Horror Picture Show, offered the second weekend of every month and always with live musical accompaniment by the Sonic Transducers.
But this Friday, Sept. 27, and Saturday, Sept. 28, the E Street Cinema offers Bob Spiers' 1997 musical comedy Spice World, starring the best-selling female group in music history and the most successful British band since The Beatles — whose A Hard Day's Night informed the film. Ah yes, the Spice Girls — Melanie "Scary Spice" Brown, Melanie "Sporty Spice" Chisholm, Emma "Baby Spice" Bunton, Geri "Ginger Spice" Halliwell and Victoria "Posh Spice" Adams Beckam. The girl-power five act out fictional events, plus dream sequences and flashbacks, all leading up to a concert at Royal Albert Hall. Alan Cumming and Roger Moore play supporting roles, as does everyone from Barry Humphries aka Dame Edna to singer Meat Loaf to The Rocky Horror Show creator Richard O'Brien, to say nothing of celebrity cameos. The film has become something of a cult classic — for people who want to "Spice Up Your Life." If that's you, then naturally, you just gotta shake it to the left!
Friday, Sept. 27, and Saturday, Sept. 28, at midnight. Landmark's E Street Cinema, 555 11th St. NW. Tickets are $9. Call 202-452-7672 or visit landmarktheatres.com.