Setting the Stage
TWO YEARS AGO, under the guidance of artistic director Paul Tetreault, Ford's Theatre launched the Lincoln Legacy Project to annually build programming that educates and engages on topical issues, all centered on a particular theatrical production. In 2011, the project debuted with Parade, the play by Alfred Uhry dramatizing the 1913 trial of a Jewish factory superintendent in Georgia accused of raping and murdering a 13-year-old employee. Ford's complemented the staging with discussions of anti-Semitism, of relationships between African-American and Jewish communities in the South, and other points of interest stirred by Parade.
The next year, Ford's chose Trey Ellis and Ricardo Khan's Fly, based on the World War II experiences of African-American pilots. This 2012 iteration included an exhibit, The Test, in Ford's new Center for Education and Development across from the theater on 10th Street, detailing the training of these pilots and the racism they faced.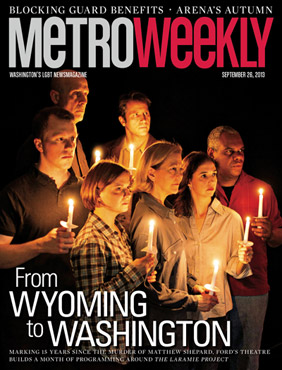 Now, Ford's is turning to Matthew Shepard, the 21-year-old gay man beaten, tied to a fence and left to die in Laramie, Wyo., 15 years ago. And it's all coming together at a time when the basic narrative is again being challenged. In 2009 it was Rep. Virginia Foxx (R-N.C.) calling the hate crime a "hoax." Today, it is Stephen Jimenez's new book, The Book of Matt, claiming that methamphetamine rather than bigotry was central to Shepard's murder, for which Aaron McKinney – who attempted to use the dubious "gay-panic defense" – and Russell Henderson were convicted. Clearly this is a story that is tightly woven into the American cultural fabric. It's a true story that has changed a family, a town and a nation forever. How fitting, then, for Ford's Theatre, the spot where President Lincoln was shot, to focus its third Lincoln Legacy Project program on The Laramie Project, the play by Moisés Kaufman and members of the Tectonic Theater Project, exploring the reactions of the people of Laramie to the murder that made their home the nexus of national debate on hate crimes, on LGBT equality, on American values.
As with Parade and Fly, the programming goes far beyond the staging of the play itself. There will be Monday-night discussions, Sunday readings of the companion play Ten Years Later, an exhibit featuring many of the thousands of letters sent to the Shepard family, a candlelight vigil and more.
"The formula we've worked with, including this year, is we create this community conversation around the piece," Tetreault explains. "It is an event. It is a huge event. … It would be nice for Ford's to just put on The Laramie Project. But why? Why just do that? Why stop there? We have a platform in Ford's Theatre, in Abraham Lincoln, in his legacy, in this education center. We have a platform to create a dialogue for Americans to talk about these issues."