Finding Direction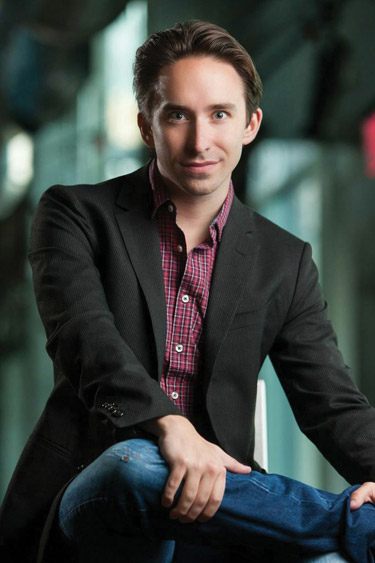 Matthew Gardiner
(Photo by Christopher Mueller)
MATTHEW GARDINER KNOWS knows exactly where he was when he learned of the murder of Matthew Shepard in October 1998. Fourteen at the time, he was seated in the backseat of his parents' car, fighting with his twin brother, James. Their mother was in front listening to the radio as they sat parked, waiting for their father to return from an errand. Then, their mother turned in her seat to face her sons – particularly Matthew. She was crying.
"It doesn't matter who you are, I love you no matter what," the 29-year-old Gardiner says, repeating his mother's words. "I started to listen to what they were talking about on the radio, and they were talking about Matthew Shepard."
"It had both a positive and a negative effect on me," he continues. "The positive effect was the words that came out of my mother's mouth stayed with me till I came out. The negative was being a 14-year-old and hearing about the attack on a young gay man. It delayed my coming out. It was terrifying to a young, gay kid to think that could happen to someone. Or that could happen to me."
Today, Shepard's murder is again influencing Gardiner's life. Gardiner, associate artistic director at Arlington's Signature Theatre, is stepping into Ford's Theatre to direct this production of The Laramie Project. And while Gardiner has directed serious, intense material before, this play brings its own challenges, both technical and emotional.
"Laramie is a series of monologues," Gardiner says. "There are very few moments in the play when people are actually engaging with other people on the stage. The challenge is, when it's a play about a community, how do you create a community? How do you make this group of actors feel like a community when they're never looking at each other? We spend a lot of time in rehearsal when I'll say, 'Okay, turn to this person and deliver this monologue. Now turn back out. And all of a sudden, it irises things down, it becomes very specific. It's a different thing when you're saying this monologue to a woman instead of a man. It's a different thing when you're saying this monologue to somebody in their 50s, as opposed to someone in their 20s. So it's a lot of figuring out what are your opinions and who are you talking to. When it starts to feel like we're talking to a wall again, we turn back to the person and we try to find what it is like to actually speak to another person onstage and not just deliver another monologue."
The emotional punch, however, seems to have been the greater challenge, at least when rehearsals began.
"Those early rehearsals were hard," Gardiner readily admits. "Everybody would end rehearsal in tears. At some moment, we were like, 'We cannot do this for three-and-a-half weeks."'
Gardiner and his cast may have managed to find ways to create some personal distance from the material as they continue to master it, yet there is no getting around the gravity of not only the play itself, but the monumental nature of staging this play in this theater, representing the living residents of Laramie to audiences that will range from Shepard's family – even if Matthew's mother, Judy Shepard, finds it possibly unbearable to sit through a full staging – to a range of D.C. luminaries, marking this sad but important anniversary.
"I can't let myself think that way," says Gardiner. "Otherwise, all of my decisions and choices will be hindered. All I can do is honor the voices in the play and do my best in that. There are just a lot of people that are committed, who believe that this story is still important to tell, both for Matthew Shepard and the community of Laramie, Wyo. – and for the gay, lesbian, bi and transgender community of D.C. There are a lot of people we feel it's important for. I try not to get stressed out about all of what's around it."