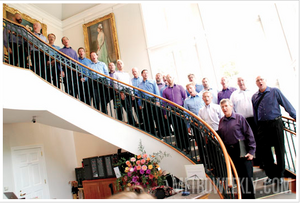 Any day can be a good gay day to take in the riches of upper Northwest D.C.'s Hillwood Estate and Museums, the well-preserved mansion and grounds founded by the late Marjorie Merriweather Post. But only one day a year is Gay Day at Hillwood — and this year, that day is tomorrow, Sept. 28. The forecast calls for sunny skies and a high temperature of 72, perfect for the display of classic cars by the Straight Eights chapter of the Lambda Car Club International. The day also offers exclusive peeks into rooms not usually open to the public, as well as the great current exhibition Living Artfully: At Home with Marjorie Merriweather Post.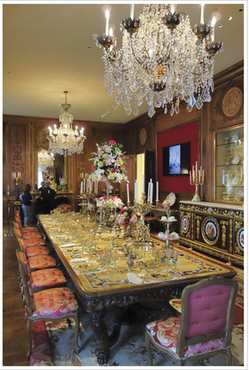 Other activities on tap at this year's event, sponsored by Mitchell Gold + Bob Williams:
*Rainbow Families DC's Morning Family Social, complete with silver dollar pancakes, lawn games and costumes, starting at 10 a.m. on the Lunar Lawn
*Floral Design Demonstrations by Jason Gedeik, head of greenhouse and design operations at Hillwood, at 12 p.m. and 2 p.m. on the Visitor Center Terrace
*A concert by the a cappella group Not What You Think at 12:30 p.m., in the Visitor Center Theater
*The talk "DC's Downtown Abbey in a Mad Men Era" by Estella Chung, Hillwood's curator of American material culture and historian, at 1 p.m. and 4 p.m., in the Visitor Center Theater
*The talk "Dressing Artfully," a look into Marjorie Merriweather Post's vast closets, by Howard Kurtz, Hillwood's associate curator of costumes and textiles, at 1:30 p.m. and 3:30 p.m. in the Visitor Center Theater
*DC Lambda Squares-led square dancing sessions at 2 p.m. and 4 p.m. in the Motor Court
*Conversations with John Greeawalt and Stephen Vanilio, founders of BookArts, at 3 p.m. and 4:30 p.m.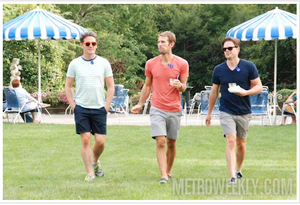 Saturday, Sept. 28, from 10 a.m. to 5 p.m., Hillwood Estate, 4155 Linnean Ave. NW. Tickets are $10 to $15. Call 202-686-5807 or visit HillwoodMuseum.org.
Photos courtesy Metro Weekly