Harvey Fierstein's Torch Song Trilogy feels very much of its time – the turn of the 1980s – as it starts. Lead character Arnold Beckoff is very much an old-school drag queen, carrying a lifetime of burdens upon his high heels and desperately seeking an unattainable "international stud." Being stuck waiting by a rotary phone certainly doesn't help his cause.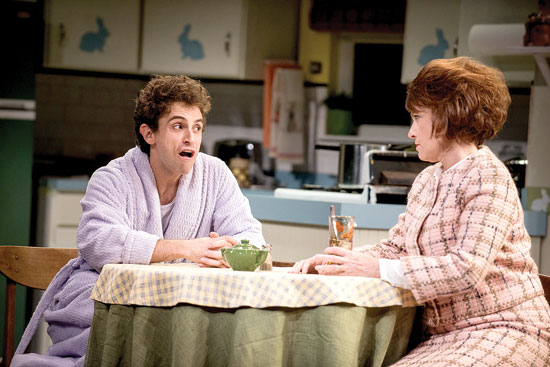 Torch Song Trilogy at Studio Theatre
But that's just the first act – and the first hour – out of three, plus two 15-minute intermissions. By the time you leave Studio Theatre's new production of the 1983 Tony Award winner for Best Play, your thoughts will be very much in the here and now. The play that put Fierstein on the map is possibly his greatest work, drawing from the same well as La Cage Aux Folles and Kinky Boots. Even after significant advances in civil rights and technology in the past 30 years, gay men and drag queens – anyone who feels like an outsider, really – can still relate to the story's struggles for love and acceptance and its emphasis on the need for self-affirmation.
The Shakespeare Theatre Company's Michael Kahn, making his Studio Theatre directorial debut, has assembled a fine cast and creative team – led by set designer James Noone – who succeed in proving that this play has not only stood the test of time, but also that it's something of a travesty that it's rarely been staged. Brandon Uranowitz leads the cast as Arnold, making the character, which Fierstein largely based on himself, his own. But in Act 3 Gordana Rashovich gives a fiery performance as Ma, aka Mrs. Beckoff – and if she doesn't remind you of your own mother, no doubt she'll remind you of another disapproving, dominant woman in your family.
TORCH SONG TRILOGY




1/2
To Oct. 13
Studio Theatre
$39 to $85
202-332-3300
Studio Theatre
Torch Song Trilogy is as hysterically funny as it is tearfully sad, and Act 3 packs a wallop on both fronts, as Arnold repeatedly argues with Ma, as well as interacting with his former lover, Ed (Todd Lawson), and the gay foster kid, David (Michael Lee Brown), he's in the process of adopting. But it is Act 2, "Fugue in a Nursery," that really makes this production sing. The entire act takes place in a giant bed as Ed, his wife Laurel (a charming Sarah Grace Wilson), Arnold and his new lover, Alan (a game Alex Mills), interact in various combinations and in every corner of the mattress. The actors work together with a sense of perfect timing and harmony, like players in a sharp jazz band riffing on some of your favorite torch song standards. And somehow, even after hours of play, it still ends too soon.
SIGNATURE THEATRE'S PRODUCTION OF Miss Saigon is superlative in many ways – from being the Arlington company's largest, most technically ambitious production ever, to setting new box-office records with regularly sold-out performances, causing Signature to extend its run twice. It is certainly noteworthy what Signature's Eric Schaeffer has managed to achieve in this scaled-down version of one of Broadway's first big-budget blockbuster musicals, set during the Vietnam War. Schaeffer's production may not employ a helicopter in the "Fall of Saigon" evacuation scene, but he and his creative team do effectively simulate the experience, right down to Chris Lee's choppy lights and especially Matt Rowe's seat-reverberating bass sounds.
The 19 cast members also sing their hearts out, so much so you worry about long-term vocal health. The actors are singing both more – even much of the dialogue between actual songs is sung in Claude-Michel Schönberg and co-lyricist Alain Boublil's sung-through drama – and at higher (wartime-appropriate) volume than the norm. In fact, Jason Michael Evans, the man who was supposed to play Chris, the American GI who falls for "Miss Saigon" Kim (Diana Huey), pulled a muscle in his throat during rehearsals and was forced to bow out in order to save his voice. Understudy Gannon O'Brien assumed the role, and while O'Brien doesn't have the range or dexterity of Huey, the two nonetheless harmonize beautifully in their many duets in Act 1.
MISS SAIGON


1/2
To Oct. 6
Signature Theatre
$40 to $97.80
703-820-9771
www.signature-theatre.org
Still, all of that can't cover up the fact that Miss Saigon is not, at its core, the best musical ever. It's not even particularly great. It's just too melodramatic and predictable, especially in Act 1, to win those kinds of superlatives. Neither the story, based on Puccini's Madama Butterfly, nor the music is very original, and the degree of gee-whiz spectacle, of style over substance, makes you think Schönberg and Boublil – who worked on the English lyrics with Richard Maltby Jr. – took it fairly easy in writing this, their follow up to the mega-hit Les Misérables. Late in Act 2, the Engineer (a convincingly showy Thom Sesma) sings of "The American Dream," a wonderful ditty that's a response to the American horror story that was the Vietnam War, and our leaders who sold us false hope there.
In many respects, though, that's what Miss Saigon is selling too.