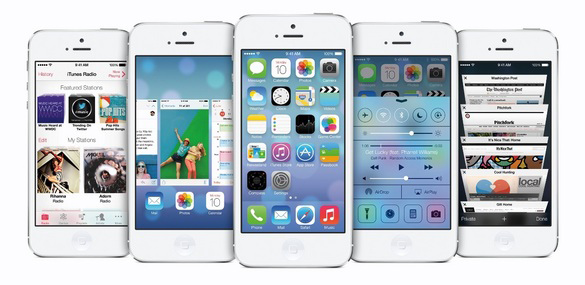 Apple has just announced that their refresh of the iOS operating system, version 7, will be available starting September 18 for users with an iPhone 4 onwards, iPad 2 onwards, iPad mini and the 5th-gen iPod touch.
The refresh brings a dramatic visual overhaul to iOS, with the rather staid design giving way to bright colors and a flat theme reminiscent of Windows Phone and Nokia's defunct MeeGo OS. Gone are the 3D effects and little visual touches — Sir Jonathan Ive has stripped away all of the crud and given users clean icons and fresh fonts instead.
Control Center is a big feature, accessed across the whole OS by swiping up from the bottom of the screen — much like Android user can access Google Now by swiping up on the home button. Control Center brings Anrdoid-like functionality, too, with access to quick settings including Airplane Mode, a flashlight, music, brightness and other functions. The notifications bar now takes up the full screen, and is accessible from the lock screen — yes, funnily enough, much like Android — and the most dramatic shift of all is in the lock screen itself. Gone is the swipe-to-the-right system of old, and in comes a feature borrowed from recent Samsung handsets — irony, anyone? — with users now able to swipe anywhere, in any direction, on the lock screen to unlock their device.
There are a host of new features and additions across the OS, but it's the design that is going to polarize users. I, for one, am a fan. It's heavily influenced by its rivals, but it brings iOS back into the fold with current Android and Windows Phone handsets in terms of looks. How users will react remains to be seen, but we'll find out when you all start downloading en masse next Wednesday.