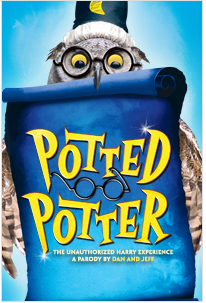 "We're still pinching ourselves and waiting for somebody to realize that we are just two guys running around dressed up as wizards," jokes Daniel Clarkson of the show Potted Potter: The Unauthorized Harry Experience. Clarkson co-wrote and co-performs with Jefferson Turner this Harry Potter parody, now in its final weekend at Shakespeare Theatre Company's Sidney Harman Hall after successful runs the past few years everywhere from London's West End to off-Broadway. As I reported in a Metro Weekly profile a couple weeks ago, the show first gained traction at the world-renowned Edinburgh Fringe Festival — and it was there that Potter creator J.K. Rowling made her one and only known attempt to see the show.
"She hasn't ever seen it," Clarkson responds, launching into an anecdote. "When we first did the show up in Edinburgh in Scotland," he explains, "it was our last show and we'd been sold out the whole run. And we were packing up at the end of the show…and the box office manager came in with one of her box office staffers, who was in floods of tears. It turned out [an unrecognized] J.K. Rowling had turned up to the box office [but was] turned away because we were sold out."
So if you notice an empty seat at a show this weekend, it just might have been intentional. "We've now said," Clarkson explains, "any show we do, anywhere, we have one seat for every performance that's left empty — just in case she decides to stop by again."
Potted Potter runs to this Sunday, Sept. 15, at Sidney Harman Hall, 610 F St. NW. Call 202-547-1122 or visit shakespearetheatre.org.