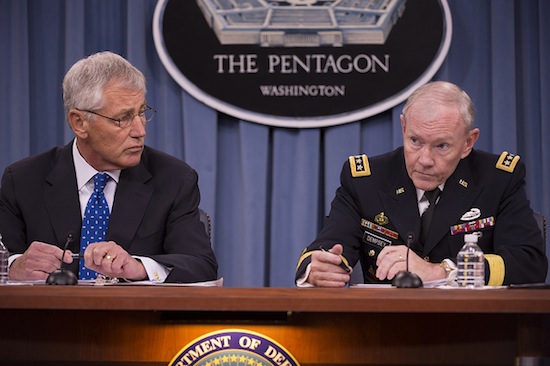 Oklahoma became the latest state to stand in defiance of a Pentagon order by halting the processing of requests for benefits from members of the National Guard with a same-sex spouse, and the federal government seems tepid to react.
Oklahoma joined Texas, Mississippi and Louisiana following an order by Republican Gov. Mary Fallin to block requests for benefits. Fallin's decision, confirmed Tuesday, was a reversal of how the Oklahoma National Guard had been processing requests. According to the Associated Press, a spokesperson for Falling said the governor's decision is meant to reflect the will of voters, who approved a constitutional amendment in 2004 banning same-sex marriage.
"Because of that prohibition, Gov. Fallin's general counsel has advised the National Guard not to process requests for benefits of same-sex couples," spokesman Alex Weintz told the AP. "Gay couples that have been legally married in other states will be advised they can apply for those benefits on federal facilities, such as Tinker Air Force Base, rather than state run facilities."
Fallin's order came on Sept. 5, two days after the Pentagon deadline for extending full benefits to military families. In light of the Supreme Court's decision striking down Section 3 of the Defense of Marriage Act, Defense Secretary Chuck Hagel announced in an August memo that the Pentagon would make the same benefits available to married same-sex couples as are available to married opposite-sex couples.
Despite that order, those four states — which are run by socially conservative Republican governors — have determined same-sex military families must go to a federal facility to enroll in the Defense Enrollment Eligibility Reporting System (DEERS) rather than a state installation. And while they appear to be in defiance of an order from the secretary of defense, the Pentagon has been mum on what, if any, response it will issue.
Defense Department spokesman Lt. Cmdr. Nate Christensen told Metro Weekly simply, "All Federal Military installations will issue IDs to all those who provide a valid marriage certificate from a jurisdiction that recognizes same-sex marriage."
Speaking to reporters Thursday afternoon, White House press secretary Jay Carney also said he did not know if President Obama was aware of the situation in those four states and referred legal questions to the Pentagon.
Legal action, however, appears to be afoot among at least one LGBT group. In a Sept. 13 letter to the commanding general of the Texas Military Forces, Lambda Legal urged him to follow the Pentagon directive issued earlier this summer.
"When voluntarily implementing federally-funded benefits programs on behalf of the U.S. Army National Guard, Texas may not violate the federal civil rights of eligible spouses of military personnel," Lambda Legal staff attorney Paul Castillo wrote. "The discriminatory treatment of lesbian and gay spouses of service members, including those in the Army National Guard in Texas, is illegal."
According to Castillo, the Texas National Guard confirmed the receipt of that letter earlier this week and the legal group is seeking to give them every opportunity to reconsider their position before pursuing legal action. Castillo told Metro Weekly it was "extremely concerning" that Oklahoma has followed suit, but that no decision has been made as to whether Lambda Legal will pursue similar action in the three other states blocking the processing of military benefits.
[Photo: Secretary of Defense Chuck Hagel (left), Army Gen. Martin E. Dempsey, chairman of the Joint Chiefs of Staff. Credit: DoD photo by Sgt. Aaron Hostutler, U.S. Marine Corps.]