"Have you always been a dancer?"
Actor Alex Mills gets that question a lot, since his principal work in the D.C. theater scene has been with Synetic Theater, the physical theater company known for its "Silent Shakespeare" repertoire and other mostly wordless, movement-centered productions.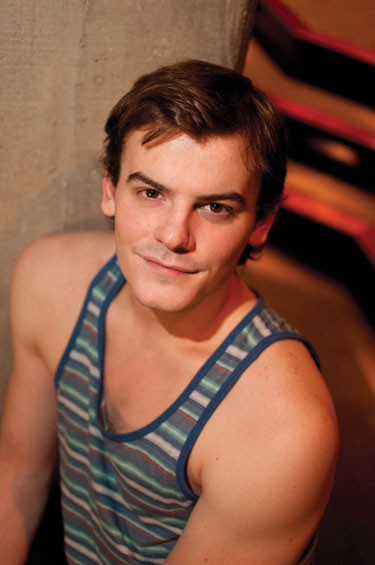 Alex Mills
(Photo by Todd Franson)
"It's been a challenge to just get more speaking roles, to be seen as an actor who can handle text," says Mills, while noting that he has been meeting that challenge lately. Beyond his core work as a senior company member of Synetic, over the past year he's appeared in stage productions at Signature Theatre and Studio Theatre, including the current Torch Song Trilogy.
And, for the record, Mills has never been a dancer.
"I did gymnastics as a kid, but that's it," says the 24-year-old native of Fredericksburg, Va. "I was a complete theater nerd in high school. I even did forensics, the speech competition." Mills was saving money to attend Boston University to study acting when he discovered Synetic, joining the company at age 19. The work has provided its own education. "Having the knowledge of what physical expression can convey, whether or not people are even aware that you're doing it, is such a good tool to have," Mills says. "Because when you don't have lines, or if you're just trying to react, 'physical vocabulary' — I'll put that as a term — says so much. As much as the text does."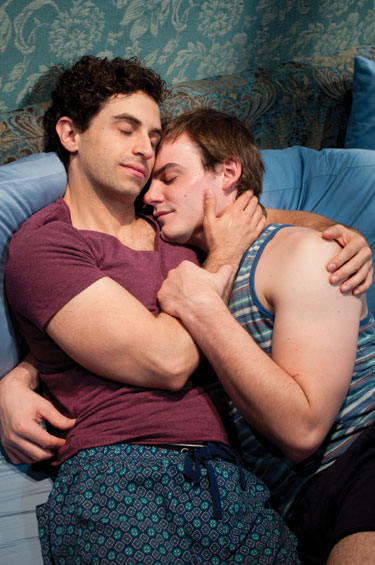 Torch Song Trilogy: Brandon Uranowitz and Alex Mills
(Photo by Todd Franson)
Physical vocabulary certainly factors into his portrayal as Arnold's lover Alan in Torch Song Trilogy. Mills is always onstage during Act 2, but is "frozen" during scenes in which he's not talking, when Arnold is often talking about Alan right in front of him.
Mills says his parents have always been supportive of his decision to become an actor, and they were also supportive from the moment he came out as gay. "I've been very lucky," Mills says. "I had no drama whatsoever in terms of coming out. It couldn't have been easier. My mom was kind of like, 'Son, I hope you don't get offended by this, but, hmm, it's not really going to come as a surprise to the family."'