Motorcyclists in NYC, involved in a collision with an SUV, chased down and assaulted the driver after he attempted to flee the scene of the initial accident.
Video footage posted online from a motorcycle rally known as the Hollywood Block Party — which took place in NYC yesterday — shows a gang of riders weaving amongst each other across all three lanes of a highway, before encircling the driver of a black Range Rover Sport. One motorcyclist then proceeds to swerve in front of the driver and brake check him — deliberately braking so as to cause the driver to slow down. Unfortunately, the Range Rover failed to brake, and collided with the rear tire of the motorcycle.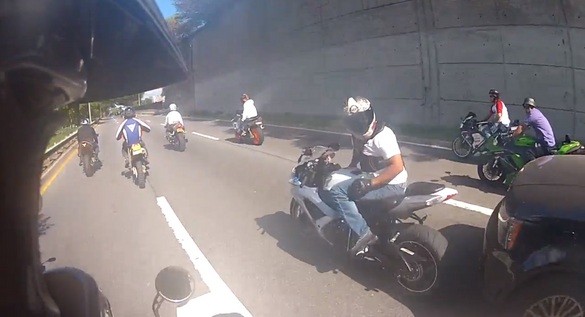 The footage shows the rider carrying on, unharmed, but the Range Rover and other riders quickly stop on the highway. What follows is still unclear, but according to the Daily Mail, the driver reported to police that motorcyclists began to damage his vehicle after he had stopped. With a wife and 5-month old child in the back seat, the victim stated that he feared for his family's safety and attempted to flee the scene.
The Range Rover crashes over several bikes, before accelerating away from the scene. The bikers quickly give chase, following the SUV. Other reports state that at least one biker suffered a broken leg as the Range Rover fled from the gang, but police have stated that no injuries were reported.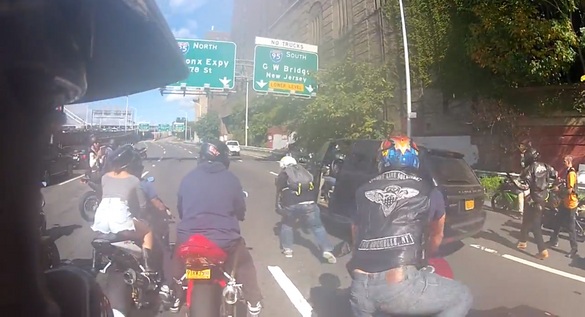 Following the vehicle, they eventually slow down for traffic, at which point one biker ditches his bike and wrestles the door of the Range Rover open. The victim again puts his foot down and leaves the bikers behind. The remainder of the video shows a high-speed pursuit off the freeway before reaching 218th Street, where traffic forces the Range Rover to stop. Bikers surround the vehicle, with one rider removing his helmet and smashing the driver's window open, before proceeding to swing at the driver with the helmet. Another rider punches the back window, where his daughter sat inside.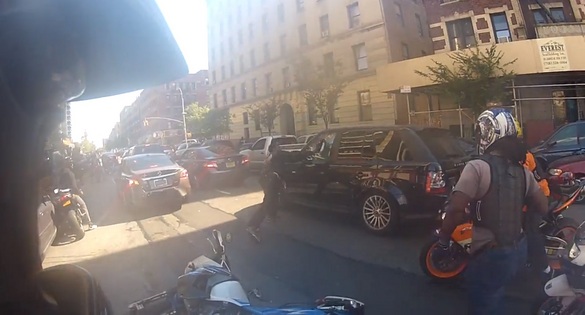 The video immediately stops, but according to Gothamist, the Range Rover's tires were slashed to prevent the victim from leaving once traffic eased, with the bikers proceeding to assault the victim, who was taken to Columbia University Medical Center. He was treated for lacerations to his face and chest and reportedly suffered two black eyes and injuries to his face and torso.
No other injuries were reported, despite rumors initially floating that a biker had died as the Range Rover drove over the motorcycles, and the NYPD have stated that no arrests have yet been made as investigations continue.