As I'm gathering my stuff to walk from my car to the gym, the first thing I do is run my headphone cable down the front of my shirt. I've seen others do this, and it makes sense to me. It keeps the cord from flailing around, threatening to either rip the headphones out of your ears or your media player out of your pocket — causing the typical seize of all bodily motion as you watch it tumble to the floor. It's not a pretty sight.
Hiding the cable in your shirt is a perfectly capable solution if the cord is long enough and you aren't doing any exercises that might require a bar to be resting on your chest (looking at you, front squats). What about your MP3 player or phone, though, what do you do with that? Leave it in your pocket so it has a chance of falling out? Use one of those arm bands, that slip up and down, and leave the cord exposed?
I have come back from the promised land of fitness electronics empty-handed save for a consolation prize — Motorola's S10-HD Bluetooth Headphones. What differentiates them from normal headphones is a wraparound design that forms over the ears and inserts into them from above. It's not a bad design idea, one I actually prefer. I have never had a pair of earbuds, outside of Apple's, that stayed in my ears — especially the kind that insert. The S10's have four different sizes of ear supports ranging from small to extremely large. A good fit is needed as the weight of the device is in the back, where the electronics are stored, and this can create a strain on your ears from supporting the weight so far away if they don't fit perfectly. On the subject of fit, I do not have a small head — a 7.5 hat size — and the S10's are sure to remind me of that. They are flexible, but because of the size of my head, cause some pressure on my ears. Though the discomfort is manageable, I'll never forget I'm wearing them. Motorola has placed several controls along the outside of the headphones, a volume up and down, a call accept button, and some basic media controls on the other side. They are simple enough to remember, and are embossed in rubber, so you can tell which is which without looking.
These are not noise-cancelling headphones, and they shouldn't be, if you are exercising with them. If you are running outside, or in a gym, it pays to be aware of your surroundings — cars, rogue weights being thrown around, the sound of fellow gym-goers admiring your physique, all are important things to catch.
The sound quality itself is sadly lacking. The headphones provide decent bass, but the volume required to get it means the highs are almost ear-piercing — I've caught myself turning down the volume just to avoid the distracting sounds of claps. An equalizer app for your media player (if it doesn't already have one) to boost the bass and lower the highs would fix a lot of these issues, though it would be nice to not have to worry about it out of the box. The S10 won't be winning any awards for its audio.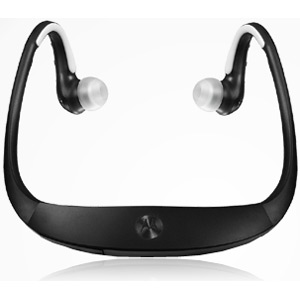 Battery life is what you would expect. I was able to exercise four times, at about one and half hours a session, without needing a charge. My extreme fear of working out without music forced me to plug them in after that. It took roughly two hours to complete another full charge which can be done with any micro-USB adapter plugged into a car, a computer, or the wall.
As far as their ability to perform during exercise? Outstanding. If you can get past the mediocre audio quality, and minor discomfort, the headphones are the perfect answer to fitness accessories. The Bluetooth has a wide range — I've found myself able to leave my bag at one corner of my gym and walk to the other side without a drop in audio. I've gone through my full gambit of lifting routines and have found the wrap around design to interfere with only one exercise: incline barbell press. All it took was a slight back adjustment to correct and they no longer got in the way. Squats were perfect and flat bench (both dumbbell and barbell) work great with these headphones. They are marketed as sweat and water resistant, and although I would never take them swimming, they handle sweat fantastically — staying in place thanks to rubber inserts along the inside. Best of all, they allow me to leave my phone in my bag, instead of on my person, where the possibility of destruction is far, far less.
Overlooking the average sound they produce (and the potential for discomfort if you have a big head like me), these are a great buy at $50. They give you freedom from the cord and, most importantly when exercising, from the distraction.