Jose Ortiz never forgot an experience he had over a decade ago at New York's Queens Museum of Art.
"You follow all the rules and you don't touch and you don't do this and that," Ortiz explains. "And then to go into a room where you actually were encouraged to touch the works of art, and to play with it and move around. It's like we were outlaws with the art."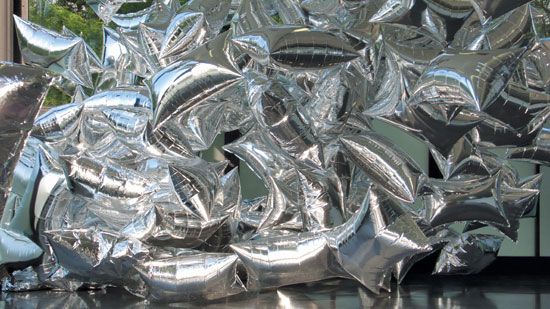 Warhol's Silver Clouds
(Photo by Artisphere)
So Ortiz decided to recreate the experience, essentially an Andy Warhol inflatables installation, at Artisphere. As the Arlington arts complex's executive director, Ortiz has arranged with Pittsburgh's Andy Warhol Museum to host in its Terrace Gallery a free, temporary installation of Warhol's Silver Clouds. "We have about 150 of these very large, rectangular Mylar pillows inflated with helium and air," Ortiz says. "They're floating at different heights in the room. And certainly as people go in there, they set them in motion by touching them and pushing them."
Developed with researchers at Bell Labs, Warhol first installed Silver Clouds at a New York art gallery in 1966. "At the time it was a really groundbreaking intersection between art and technology," Ortiz says. It also stands out from the more common work by the late Warhol. "We've had our share of retrospectives and exhibitions in this area of his really familiar work — portraits or silkscreens or Brillo boxes," he says. "Silver Clouds introduces another side of Andy Warhol to our audiences."
It also offers Artisphere a chance to show contemporary artists using new technology in their work. "We have a series of installations throughout the building that are inspired by or nod to Andy Warhol," Ortiz says, including three "generative video portraits" by Sergio Albiac. Other related activities include a performance by Dance Exchange on Friday, Oct. 11, among the "clouds," in a nod to the Merce Cunningham Dance Company, which did that at the first installation back in the 1960s. On other Fridays during the run Artisphere will play "Vapor Forms," a 28-minute electronica "soundscape" that Jakub Alexander created specifically for the installation.
And then a week before the installation ends, on Saturday, Oct. 12, Artisphere throws a Warhol-inspired affair, "Night of 1,000 Andys Dance Party," featuring comedian Andrew Bucket and eclectic music from DJ Baby Alcatraz, MarchFourth Marching Band and Javelin.
Says Ortiz, "We're encouraging people to wear turtlenecks and wigs."
Silver Clouds runs through Oct. 20. Artisphere, 1101 Wilson Blvd., Arlington. Call 703-875-1100 or visit artisphere.com.