Even after a few years of watching it grow, I still find myself fascinated daily by my Facebook feed. The thousand or so "friends" I have — those aren't sneer quotes, just acknowledging the hilarity of the idea of my introverted self having an actual 1,000 friends — encompass quite the range of opinions and interests. I regularly bounce from progressive Green Party propaganda to libertarian denunciations of Obama's transgressions, from foodie pics at Le Diplomate to ultra-country recipes calling for Pillsbury and American cheese.
America's a funny place in cross section.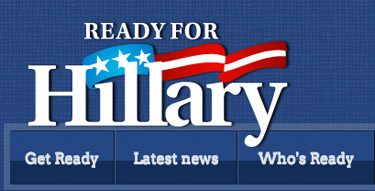 No, not so much.
But while I enjoy watching the parade, there's one thing from the past few months that continually sticks in my craw. Not anti-gay stuff — those people get booted from my list at roughly the same speed with which Johnny Weir spouts stupid quotes. No, it's the "Ready for Hillary" folks who are trying my patience.
To be clear, because I must before a horde of Hillary-ites shows up outside my door, I don't harbor some hatred for Hillary Clinton. I opposed her in 2008 pretty vociferously but I found myself admiring her stint as secretary of state. I stand by my opinions at that time though, because I am deeply uncomfortable with the increasingly dynastic tone of American politics. We've had two Bushes and there's always a danger of another one of those popping up at any moment. Once we've had two Clintons, our political cults of personality will begin yearning for Chelsea. Then we could come back around to the Obamas, with a first lady and two cool daughters waiting in the wings.
I supported Barack Obama in 2008 because I believed he would be better on rolling back the overreach of executive power that reached fearsome levels under Bush-Cheney. And as disappointing as Obama has been overall — with some notable exceptions — I don't see how anyone could reasonably believe Clinton would have been better. In short, if the progressive Democrats I see getting "Ready for Hillary" are looking for some change of course then Clinton isn't the ship to take.
But the broader and more important point here is that it's 2013, people. We have three more years until the next presidential election and about two more years before we start suffering the long, soul-deadening slog through Iowa, New Hampshire and South Carolina. It is beyond too early for Democrats to be engaging in this effort to make Clinton the "inevitable" candidate for the White House (a position she's held before and we all saw how that turned out). To her credit, Clinton sees this problem herself, telling New York magazine, "This election is more than three years away, and I just don't think [the speculation is] good for the country."
Given the current situation in Washington, with the wilder fringes of the Republican Party throwing an entire governing system into chaos and economy-destroying threats, I think Democrats have better things to focus on than 2016. Don't think that having Clinton in the White House would break the fever of the irrational Obama haters — they'll rediscover their Clinton-hating ways in a flash.
And a lot can happen in three years (again, see the 2008 Democratic primary season). Clinton isn't the only woman in the Democratic Party; I'm perplexed that more progressives getting ready for Hillary aren't making noise for Elizabeth Warren, who's cutting her own interesting and effective path through the Senate. Vice President Joe Biden supposedly has his eye on the rung above him, which would be entertaining in that special Biden way even if I hope he chooses not to.
Anyway, don't make up your mind yet. In 2013, the best approach is to be ready for anything.
Sean Bugg is editor emeritus of Metro Weekly and the executive director of the Next Generation Leadership Foundation. Follow him on Twitter @seanbugg or email him at seanbugg@gmail.com.