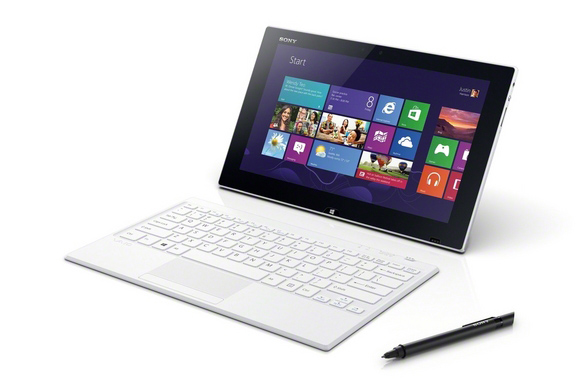 Sony is on a bit of a roll at the moment. In 2013, the company seems to have found a design synergy for its products, with a distinct, high-quality, streamlined approach to form and function in its flagship devices. The just-announced VAIO Tap 11 continues a trend started back in February with the Xperia Z smartphone, taking further cues from the Android-powered Xperia Tablet Z to give us what could easily be the slickest Windows 8 tablet yet.
After almost a year of Windows 8 being available to the public, the Tap 11 is Sony's first, proper, standalone tablet to run the OS, and they've taken the fight straight to Microsoft's door — the Tap 11 is a direct response to the Windows firm's Surface Pro tablet PC.
Featuring an 11.6-inch, 1920×1080 IPS display, an N-Trig compatible digitizer and included pen, a keyboard that clips onto the device, a kickstand and a promise of full-PC capabilities in a thin and light package, the Tap 11 certainly sounds like the Surface Pro. It does, however, offer substantial upgrades.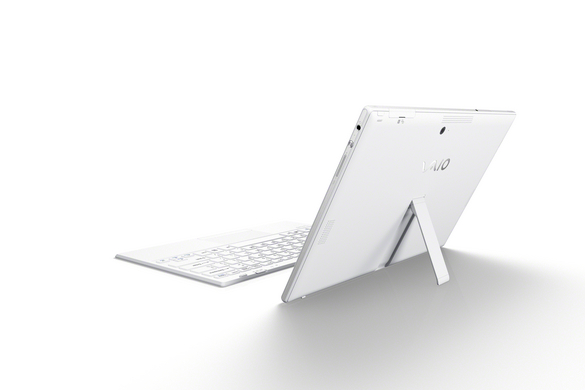 For starters, it's a much thinner beast. Its wireless keyboard clips onto the front of the device via a magnetic connector — yup, similar to the Pro — though it is slightly thicker, has a built-in battery and offers much greater travel in its keys. However, the Tap 11 itself is so thin, that with the keyboard attached and closed against the device, the whole ensemble is about the same thickness as the Surface Pro by itself. Sony calls it the world's thinnest tablet PC, and it's difficult to argue with them.
The Tap 11 one-ups the Pro with its internals, too. Featuring the latest Haswell chips from Intel, users can choose between Core i3, i5 and i7 models, with storage running from 128 to 512GB of solid-state space. Haswell should mean both better performance and longer battery life compared with current tablet PCs, including the Core i5-toting Pro. There's also a micro-HDMI socket, full-size USB 3.0 port, dual-speakers, NFC, a built-in IR blaster and Sideview app, as well as an 8-megapixel camera with Sony's Exmor RS sensor for better low-light shooting.
Available in black and white, Sony is remaining quiet on the Tap 11's price, and when it will launch in the US. Another quiet spot is battery life, though we can expect it to be decent in comparison with current tablet PCs. Release date and sticker price are apparently being announced soon, so hopefully we'll see the Tap 11 in-store before the holiday season is over.