Stephen Spinella boldly thanked his male lover in 1993 when he won a Tony Award for Best Actor. "There was a little squeaky-squeaky about that, but Harvey Fierstein had broken that [taboo] much earlier," Spinella demures, adding: "By '93, the AIDS crisis was happening, and people were starting to behave."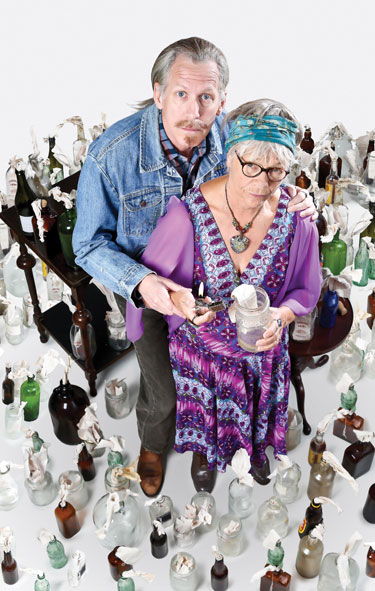 Velocity of Autumn: Stephen Spinella and Estelle Parsons
(Photo by Tony Powell)
Even so, it took another couple decades before more than a handful of gay actors would also risk image and career by being so public. At least the 56-year-old Spinella has managed to achieve impressive career longevity. After his Tony-winning work originating the role of Prior Walter in Tony Kushner's Angels in America plays, he took on prominent roles on Broadway in James Joyce's The Dead and Spring Awakening. He was also part of both the off-Broadway and film casts of Love! Valour! Compassion! And he can point to relatively recent parts in the movies Milk and Lincoln.
Right now Spinella can be seen at D.C.'s Arena Stage starring opposite Estelle Parsons (Bonnie and Clyde, Roseanne) in Eric Coble's The Velocity of Autumn. Spinella plays Chris, the estranged gay son of Parsons's Alexandra, returning home to reconnect with her before she dies. "The title of the play is about how fast the end comes," Spinella explains.
Before arriving in D.C. Spinella wrapped up work as part of the cast of HBO's The Normal Heart, the film adaptation of Larry Kramer's fiery play about the rise of HIV/AIDS, directed by Glee creator Ryan Murphy. Spinella also plays a recurring character on the USA Network series Royal Pains. And he's in talks with a New York theater to star in a production of Shakespeare's Richard II.
In other words, the longtime openly gay actor is hardly at a loss for prestigious work on account of homophobia.
"I think there still is a degree of homophobia — not so much in the theater, but through Hollywood and television," he says, adding, nevertheless, that even in Hollywood anti-gay attitudes are harder to get away with. "Now people are more like, 'Fuck you! That's disgusting!' I think people have the courage to say that now." — Doug Rule
The Velocity of Autumn runs to Oct. 20 at Arena Stage's Mead Center for American Theater, 1101 6th St. SW. 'Call 202-488-3300 or visit arenastage.org.'