It's an old saw of journalism that if you can string together three related instances you have a trend or, at least, a think piece. So let's start mashing up three seemingly unrelated gay pieces of news from the past week that actually point toward the future of gay and lesbian equality.
First, Hawaii Gov. Neil Abercrombie (D) called a special session of the Legislature to consider a marriage-equality bill, noting that in the two decades since "gay marriage" became a national issue starting in the island state, "virtually everything that can be said has been said. … Virtually every angle, virtually every view, every variation on a view with regard to the issue of marriage and equitable treatment for those engaged in marriage has been aired, has been analyzed, has been discussed."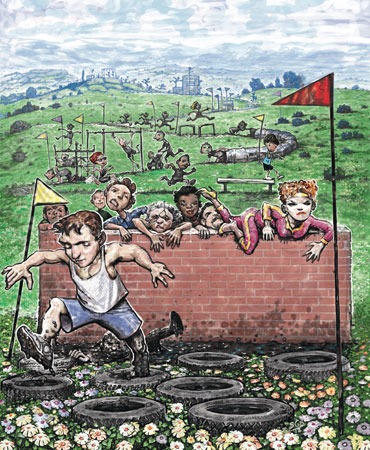 (Photo by Illustration by Scott Brooks)
In other words, it's been talked to death, the Supreme Court killed DOMA, everyone knows which direction history is going on the issue, so let's get this done already. And it's true: Full marriage equality for lesbian, gay and bisexual people is on the cusp of being the biggest political victory our community has ever seen.
Second, two big celebrities were making news out of not being homosexual. James Franco, long a practitioner of the wink-and-nudge approach to sexuality, told The Daily Beast, "I wish I was gay." Tom Daley, the British Olympic diver whose Speedos and smile have launched a thousand animated GIFs, came out as straight: "But even if I was [gay], I wouldn't be ashamed. It wouldn't bother me in the slightest what people thought." These are really just the latest examples that being perceived as gay simply isn't the big deal it once was for Hollywood stars and professional athletes. It's a changed world.
Third, we had a reminder that the world isn't completely changed as a 13-year-old boy was arrested for his part in two weeks of attacks on patrons of a Cleveland gay bar. As one employee, who was beaten and threatened with rape with a broomstick, said, "That means he was taught that hatred. He was taught to be violent."
What do these three things say when taken together? That the end of our political road is within sight. In the past four years, we've ended the ban on open military service of LGB people. Marriage equality isn't complete simply because the Supreme Court decided to slow walk the issue, even as the rulings pointed which direction the court is heading. (Hint: It's the correct direction.) The Employment Non-Discrimination Act isn't stalled because it's a gay issue, it's stalled because it's a primarily Democratic issue in a Republican obstructionist House. It's another case of "when" not "if."
(You'll rightly note the glaring lack of the transgender "T" from this point of view. That's because the political struggle for transgender equality still has a long way to go. And we need to be there for them.)
It means the battle for gay and lesbian equality becomes less political and more cultural. It's always been both, but in the past politics has been our refuge from a culture that scorned and hated us. That's no longer the case, as we've become a part of everyday American life.
That's not a declaration of victory. If 60 percent of Americans support equality, that means 40 percent don't. And those 40 percent — likely concentrated in some areas, like rural counties that want to secede because they can't stand losing elections — will have kids, some of whom will be gay, some of whom will be taught to hate. That battle won't be won in an election, it'll be won through providing the support and education for younger generations, gay and straight. It'll be won through more people coming out in their communities and families. It'll be won by looking beyond Pennsylvania Avenue and Capitol Hill to our schools, churches and towns.
It'll be won by all of us.
Sean Bugg is editor emeritus of Metro Weekly and the executive director of the Next Generation Leadership Foundation. Follow him on Twitter @seanbugg or email him at seanbugg@gmail.com.