In marking these 15 years since the death of Matthew Shepard, Ford's Theatre has partnered with a number of other entities. Some of the partners have obvious ties to the tragedy, such as the Matthew Shepard Foundation and the Human Rights Campaign. Others, less so. The Washington National Cathedral may be a case in point.
Arguably the country's most prominent Episcopal church, the cathedral is offering a weekend of events Oct. 4 to 6, remembering not only Shepard, but also Tyler Clementi, an 18-year-old Rutgers University freshman who committed suicide in 2010 after an episode of anti-gay cyberbullying.
"For too long, LGBT people have been ostracized by or unwelcome in faith communities who have used the Bible like a weapon," said the Very Rev. Gary Hall, dean of the cathedral, in a statement announcing the "Honoring LGBT Youth" weekend. "Washington National Cathedral is a house of prayer where all are welcome, and where all people can experience God's boundless love and grace."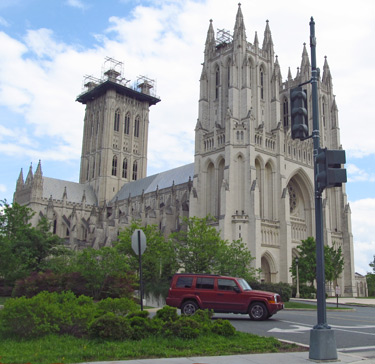 Washington National Cathedral
(Photo by JD Uy/File photo)
This is not Hall's first stand in support of LGBT rights. Prior to coming to Washington, Hall, a straight ally, advocated for marriage equality and the inclusion of LGBT people in the ministry of the Episcopal Church as rector of churches in Michigan, Pennsylvania and California.
Earlier this year, following the legalization of same-sex marriage in nearby Maryland, the cathedral, under the guidance of Hall, announced it would perform same-sex marriage rites. The cathedral also held a prayer service in support of marriage equality on the eve of the U.S. Supreme Court's June decisions in the Defense of Marriage Act (DOMA) and Proposition 8 cases, which returned marriage equality to California and allowed for federal recognition of same-sex marriage.
Hall says the weekend is not just a time to remember Shepard and Clementi, but an opportunity to talk about LGBT youth, their safety and how to make America and the world safe for people to live their lives and express their identities.
Hall also hopes the weekend will call attention to international LGBT issues, particularly the criminalization of homosexuality in countries where the dominant religion is the Anglican faith. Episcopalians, Hall says, as a branch of Anglicanism, have a duty to reach out to their fellow Anglicans and promote respect for LGBT human rights.
"The more publicly we stand with LGBT folks and for LGBT youth, I think that helps the conversations in other churches," says Hall. "A lot of the damage that is done to kids is done by their pastors in churches where, for doctrinal reasons, they consider homosexuality a sin. I think that one of the things we can do, as probably the most visible church in America, is for us to say, 'It's okay for you to be lesbian, gay, bisexual and transgender. God loves you as you are, and we're a place where you can celebrate and own your identity,' helps other faith communities raise that issue in their churches."
Despite progress within the Episcopal Church, Hall says, his church is still undergoing an internal debate about expanding the definition of marriage to include same-sex couples. While the church allows same-sex marriage rites to be performed, for example, it still defines marriage as a union between a man and a woman.
Regardless of how the Episcopal Church and others are progressing – or not – with regard to LGBT equality, Hall hopes the upcoming events at the Washington National Cathedral will demonstrate to LGBT youth that they are not alone, that whatever hardships they face will get better, and that they have a network of support, not only from healthy LGBT adults, but also straight allies.
"Where I think the Christian community needs to go, if we really believe that God made human beings in God's image, if we really believe that God loves and accepts people as they are, then we really believe not only that its okay to be gay, lesbian, bisexual or transgender, but that the sexual orientation of each person is a gift and part of their unique identity that they are called to live out," Hall says. "It's not something you have to grudgingly come to terms with. It's something you actually need to learn to accept and celebrate."
For more information about the Washington National Cathedral's "Honoring LGBT Youth" events Friday, Oct. 4, to Sunday, Oct. 6, call 202-537-6200 or visit nationalcathedral.org.