Micah Fink might be straight, but sometimes the "ally" badge alone is enough to cause anxiety.
"I think anybody who works with this community in Jamaica is automatically suspect," says Fink, a New York-based documentary filmmaker, who will be in D.C. Sept. 19 for the local premiere of The Abominable Crime, his film focused on two gay Jamaicans, Simone Edwards and Maurice Tomlinson. The film screens as part of the first weeklong film festival produced by the D.C.-based Pulitzer Center on Crisis Reporting, "Global Crises, Human Stories."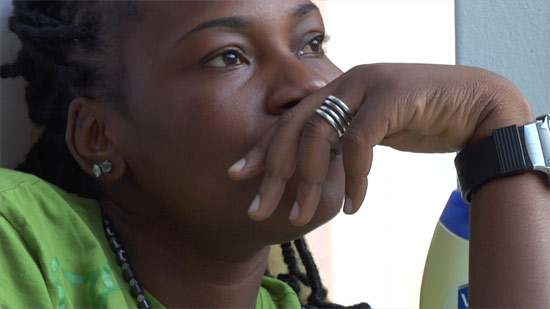 The Abominable Crime: Simone Edwards
"I went back with Maurice several times into Jamaica and it was certainly tense — let's put it that way," Fink continues, agreeing to a characterization of documenting the LGBT community in Jamaica as akin to war reporting. "I think it had that dimension, because the violence is so extreme in Jamaica and so unpredictable. There are flash mobs that pop up and people end up getting stoned or attacked or murdered. That was certainly one of Maurice's concerns, because he had been so publicly outed. I think we were all very aware that there were potential dangers."
With four festival screenings beyond the Sept. 19 premiere, most who see the film during the festival won't be privy to Fink's insights. For them, there are two points he'd like to emphasize. First, he'd simply like people to know the crucial role the Pulitzer Center had in making this film, having initially sent Fink to Jamaica to document issues of HIV/AIDS, which then morphed into this story of the LGBT community, also supported by the Pulitzer Center. Second, he emphasizes that the story he's documented is not one far removed from the U.S. audiences who see it.
"This is a situation that may seem distant because it's in the Caribbean, but Jamaica is very, very close to the United States, and it's where a lot of people spend their tourist dollars," says Fink. "You don't have to go to Uganda or to Russia to find a culture that is fully oriented against the rights of gays and lesbians."
Micah Fink and Maurice Tomlinson will participate in a post-screening discussion of The Abominable Crime Thursday, Sept. 19. The film begins at 7 p.m. The event is free, but reservations are required by emailing RSVP@pulitzercenter.org, subject line "Sept. 19: DC Premiere." For the full festival schedule, running to Sept. 26 at the West End Cinema, 2301 M St. NW, visit pulitzercenter.org.