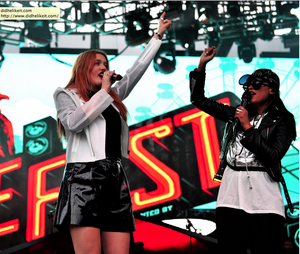 "You are absolutely the best crowd we've ever had," Aino Jawo of Icona Pop told the crowd assembled at ths past Saturday's Virgin Mobile FreeFest at Merriweather Post Pavilion. FreeFest is also a charitable crowd: Organizers of the FreeFest announced today that the event has raised over $1 million over the past five years to address the needs of homeless youth.
Which is something to crow about for sure (and more on that later). But ultimately, it's not the charitable cause that attracts 50,000 people every year to this end-of-summer music festival at Merriweather Post Pavilion. It's the lure of hearing great music by some of today's best pop acts, both established and up-and-coming.
There was plenty of that on tap at this year's FreeFest, featuring 20 acts across three stages. (Click here for a Spotify playlist sampling the best of this year's lineup.) Highlights for this critic included the Blondie/Pretenders-esque punk-pop of Sky Ferreira, the driving and dramatic folk-rock of Little Green Cars, the angsty synth-pop of Chrvches — and of course Icona Pop, the Swedish electro-pop duo of Aino Jawo and Caroline Hjelt who frankly were more compelling here than at Capital Pride in June. Having a light show helped. Jawo strapped on a bass guitar at the start of fetching new single "All Night," which gets better with each listen. But naturally the highlight was that monster hit "I Love It," and by the end of it both Jawo and Hjelt had briefly joined other girls crowd-surfing in the rain. Yes, they crowd-surfed.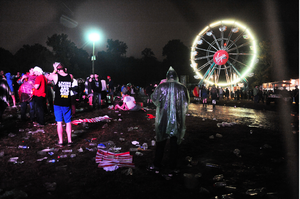 And yes, it rained. Did it ever — it rained pretty much during the entire festival. The only acts truly spared were those that performed during the festival's first couple, merely cloudy hours — or those mostly folk-oriented acts who had the good fortune of being tapped to perform in the covered Pavilion. The pretty much nonstop rain from late afternoon on didn't seem to damper the spirits of most of the attendees, but it eventually did get the better of me, and I melted away before catching Robin Thicke, the Avett Brothers orVampire Weekend, to say nothing of the other closing acts Pretty Lights and Madeon.
Still, I left with happy musical memories and discoveries. For one, I didn't expect to end up so taken with the Irish mixed-gender quintet Little Green Cars, whose sound merges prog-rock and Americana in a similar style to Mumford & Sons, with the added boost of five-part harmony.
I was even more impressed with Chvrches, the Scottish three-piece band whose sprightly sound but heavy lyrics make them an easy sell to anyone who loves Depeche Mode, Robyn or Kate Bush. Even so, and even with plenty of blog buzz over the past year, the band is obviously still getting used to all the attention. They looked tickled as the crowd roared in recognition to the opening synth notes of set closer "The Mother We Share," and lead singer Lauren Mayberry seemed a bit surprised by the crowd's warmth. "Thanks for being so kind to us," she said in parting.
As previously mentioned, that crowd kindness also manifests itself in a charitable way. Since 2009, I.M.P. has offered this festival for free — meaning that the $1 million in donated money has come willfully, by attendees donating a suggested $10 as well as purchasing add-ons to the free main event: such as paying to ride the FreeFest Ferris wheel, purchasing a reusable water bottle or buying drinks at a special bar at the festival. The money raised goes to Virgin Mobile USA's homeless initiative The RE*Generation, which this year opened the Sasha Bruce RE*Generation House, a transitional living facility for homeless youth in Southeast D.C.'s Marshall Heights neighborhood. It's the house that FreeFest built.
Photos by Richie Downs