In Virginia's elections for the House of Delegates, 44 seats have candidates running unopposed, while 56 seats are being contested. The following list includes some of the more interesting races on the ballot this Nov. 5. We're listing the following races worth watching by starting with the most contentious.
District 34 – McLean, Great Falls, Sterling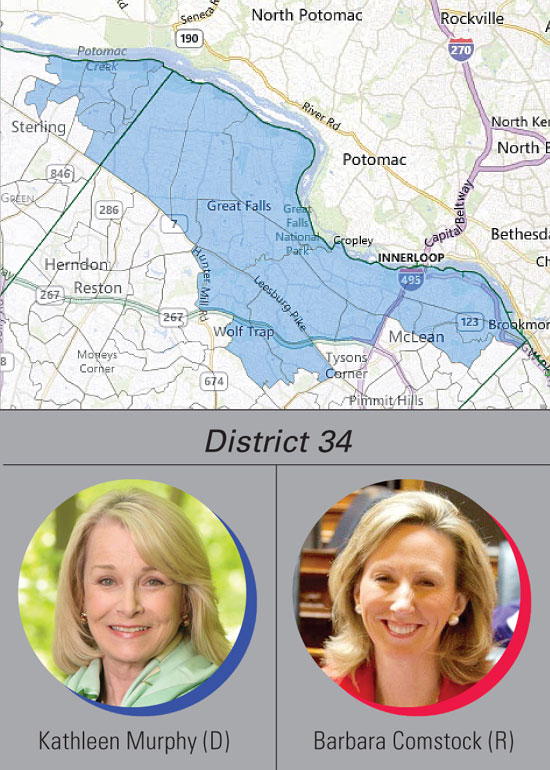 District 34: Murphy, Comstock
Democrat Kathleen Murphy is challenging incumbent Republican Del. Barbara Comstock in this suburban district. Comstock won the seat by 422 votes on the coattails of popular Gov. Bob McDonnell (R) in Virginia's 2009 Republican landslide. Though a majority of her constituents voted against 2006's Marshall-Newman Amendment banning any recognition whatsoever of same-sex couples, Comstock opposes marriage equality and has refused to support employment-nondiscrimination legislation. Murphy, a longtime ally of the LGBT community and an Equality Virginia PAC (EVPAC)-endorsed candidate, has attacked Comstock on a number of issues, including Comstock's refusal to support nondiscrimination legislation, to paint the incumbent as ideologically extreme.
District 87 – Sterling, Dulles, Haymarket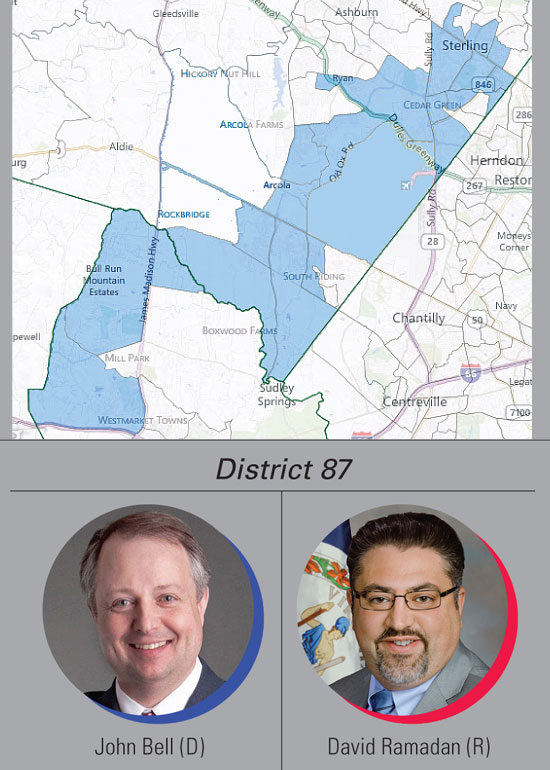 District 87: Bell, Ramadan
Republican incumbent Del. David Ramadan squeaked to victory in 2011 by a margin of 51 votes. This year his opponent is Democrat John Bell, who earned the endorsement of EVPAC. Ramadan was one of 28 House Republicans to vote against openly gay judge Tracy Thorne-Begland's nomination to the Richmond District Court, and has opposed both workplace protections for LGBT employees and marriage equality.
District 93 – Newport News, Williamsburg, Jamestown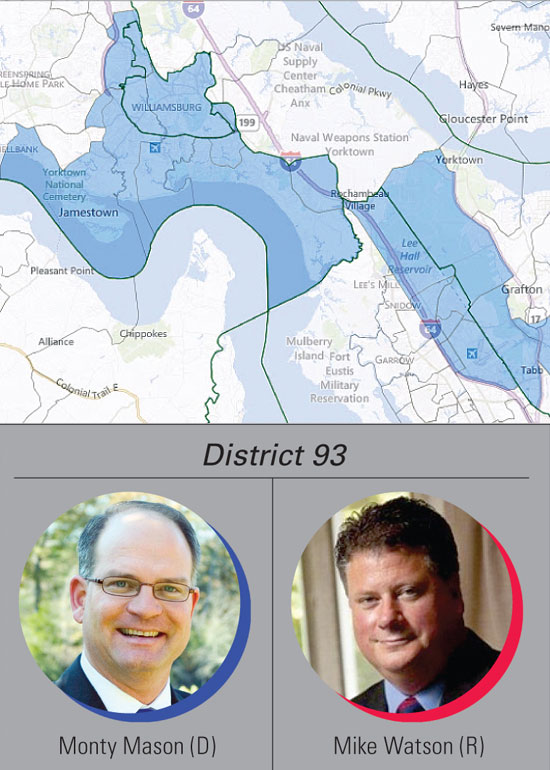 District 93: Mason, Watson
Republican Del. Mike Watson ousted Democratic incumbent Robin Abbott by 573 votes in 2011 after Abbott's district was severely gerrymandered in the post-2010 Census redistricting. This year, Watson faces Democrat Monty Mason, who earned an EVPAC endorsement for his support for repealing the Marshall-Newman Amendment and passing an employment-nondiscrimination bill. Watson was among the 28 Republicans who voted against Thorne-Begland's nomination, and he has opposed all but one piece of legislation supported by Equality Virginia over the past two years.
District 12 – Blacksburg, Pearisburg, Radford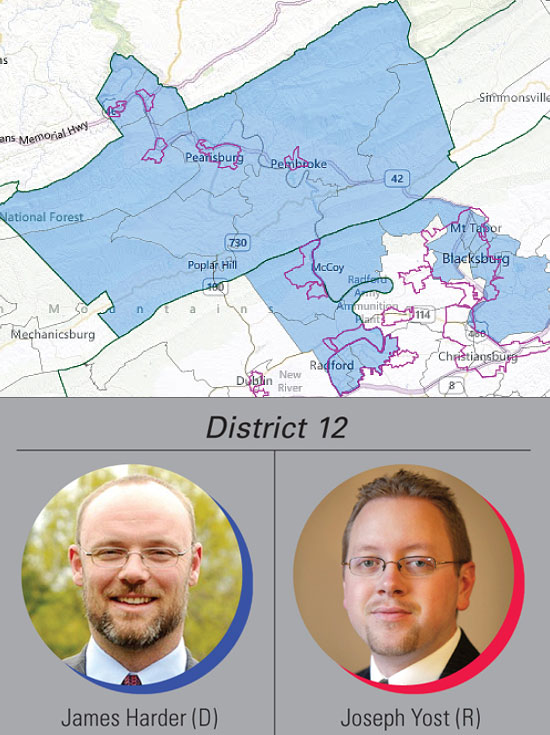 District 12: Harder, Yost
Del. Joseph Yost holds the distinction as the sole Republican endorsed by EVPAC this year. Yost was a co-patron of a bill prohibiting discrimination in public employment, voted for anti-bullying policies, voted for Thorne-Begland's nomination, and has signed Equality Virginia's statement attesting that he does not discriminate based on sexual orientation or gender identity in hiring staff. His opponent, Democrat James Harder, supports LGBT rights and marriage equality, while Yost has merely said he favors revisiting the issue of whether to repeal Virginia's ban on recognizing same-sex relationships.
District 51 – Lake Ridge, Nokesville, Bristow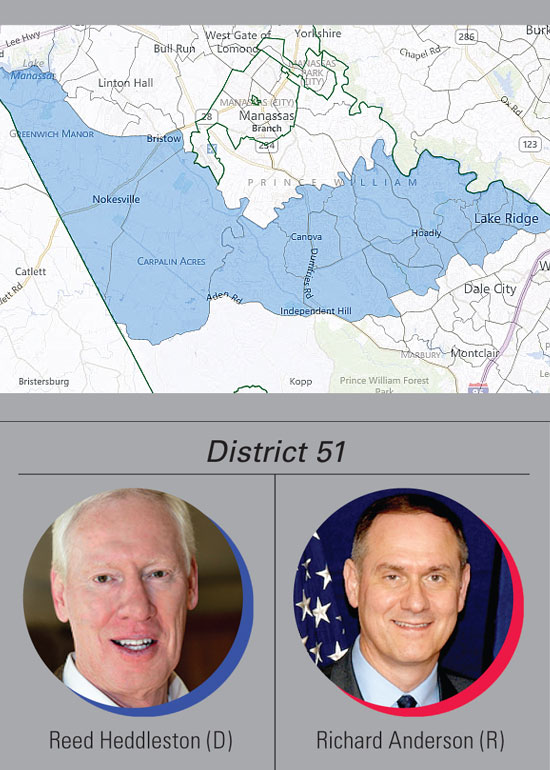 District 51: Heddleston, Anderson
Republican Del. Richard Anderson won election in 2009 by 269 votes, ousting Democratic incumbent Paul Nichols. He was unopposed in 2011, but this year faces Democrat Reed Heddleston, a former Air Force pilot and a businessman, who has proven to be competitive in fundraising. While neither candidate has been endorsed by EVPAC, Anderson has largely opposed LGBT-friendly bills and was among the 28 Republican delegates who voted against Tracy Thorne-Begland's judicial nomination. If Democrats are to gain a foothold in the House of Delegates, their success will be dependent on flipping a number of swing districts similar to this one.
District 41 – Burke, Fairfax, Mantua
District 41: Filler-Corn, Burgos, DeCarlo
Democratic Del. Eileen Filler-Corn won this Burke-based seat by a narrow margin of 37 votes in a 2010 special election after incumbent Democrat Dave Marsden pulled off a surprise victory in the race to succeed Attorney General Ken Cuccinelli (R) in the state Senate. In 2011, Filler-Corn, an LGBT ally in the Legislature, won by a 2-to-1 margin over a third-party challenger. This year, she faces Republican Fredy Burgos and Independent Christopher DeCarlo in a three-way contest.
District 86 – Herndon, Reston, Sterling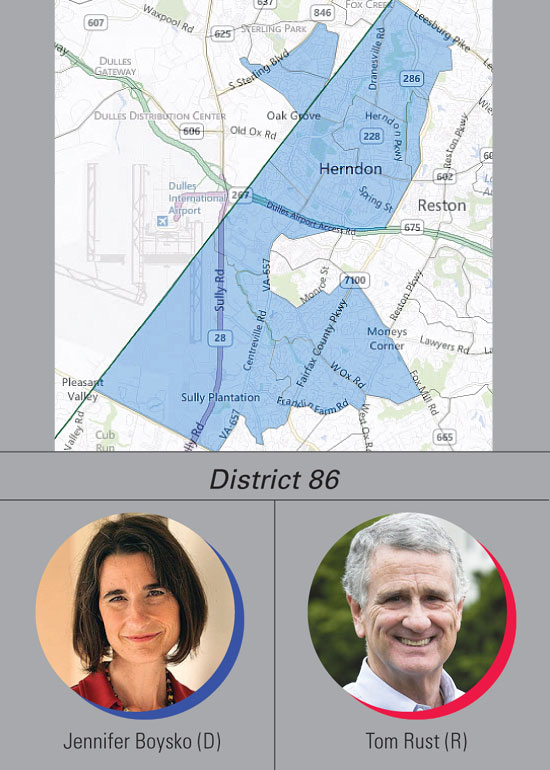 District 86: Boysko, Rust
Del. Tom Rust, a popular former mayor of Herndon for 19 years prior to his election to the House of Delegates, is considered one of the friendlier Republicans in the General Assembly's lower chamber, having earned the endorsement of Equality Virginia in past cycles. But this year, neither he nor his opponent, Democrat Jennifer Boysko, has been endorsed by the organization, though Boysko has been vocal about her support for LGBT rights and used her EVPAC questionnaire to attack Rust for supporting the Marshall-Newman Amendment and for supporting the so-called "conscience clause" bill in 2012 that allows adoption or foster-care agencies to discriminate against gay or lesbian prospective parents.
District 94 – Newport News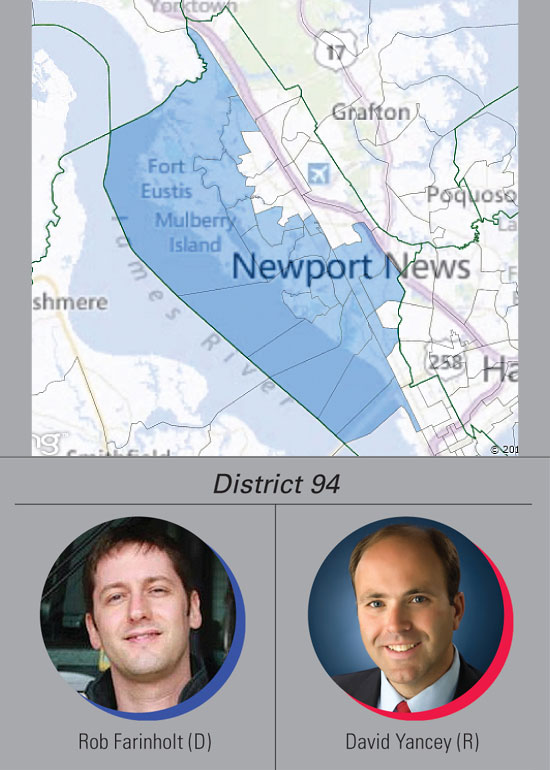 District 94: Farinholt, Yancey
Democrat Rob Farinholt, a fourth-generation firefighter and paramedic in Newport News, is running in a district that has been historically Republican, which incumbent Republican Del. David Yancey won by nearly 20 points in 2011. But Democrats are on the warpath against legislators associated with the General Assembly's crusade on social issues during the past two legislative sessions, and will be attacking Republicans up and down the ticket in the Newport News area. Liberal groups are hoping that the stoking of anti-Republican sentiment in the competitive Mason-Watson race in nearby District 93 could bleed over into Yancey's district. Yancey has generally not supported LGBT-rights initiatives, but did vote to confirm Thorne-Begland. Farinholt is an unabashed supporter of LGBT rights, including the right to marry, two-parent adoption, and employment nondiscrimination, earning him the endorsement of EVPAC.
District 21 – Virginia Beach, Chesapeake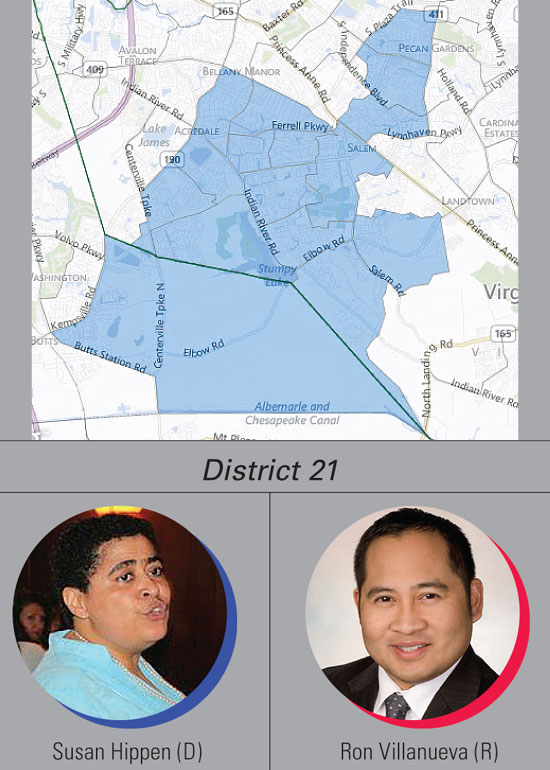 District 21: Hippen, Villanueva
Republican Del. Ron Villanueva won by a mere 14 votes in Virginia's 2009 Republican landslide. Redistricting made his district slightly more Republican, but the area is still competitive for either of the major parties. Villanueva voted for Thorne-Begland's nomination in 2013 after initially voting with Republicans to reject the gay judge in 2012. He has refused to say whether he supports nondiscrimination in employment. Villanueva's opponent is Democrat Susan Hippen, a retired Navy officer who supports LGBT rights, including marriage and workplace protections. Hippen has been endorsed by EVPAC.
District 13 – Manassas Park, Bull Run, Gainesville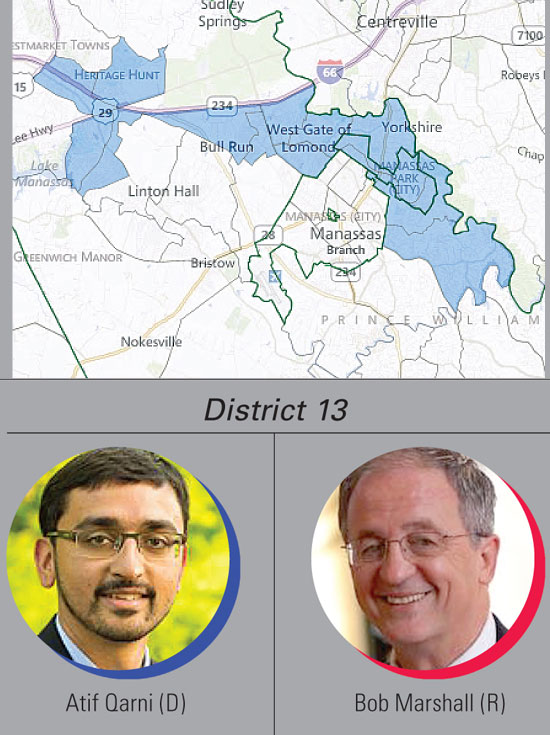 District 13: Qarni, Marshall
Republican Del. Bob Marshall has built a reputation during his 22 years in the House of Delegates as a fiery opponent of LGBT rights. Following the repeal of "Don't Ask, Don't Tell," Marshall introduced a bill to ban openly gay and lesbian servicemembers from serving in the Virginia National Guard. Virginia's constitutional ban on any recognition of same-sex couples bears his name. Marshall also spearheaded the ultimately unsuccessful effort to derail Thorne-Begland's judicial nomination. Marshall has been elected by wide margins, but was given areas with larger numbers of Democrats in the last round of redistricting. He faces Democrat Atif Qarni, who earned an EVPAC endorsement for his support of same-sex marriage and workplace protections for LGBT employees.
District 32 – Ashburn, Broadlands, Sterling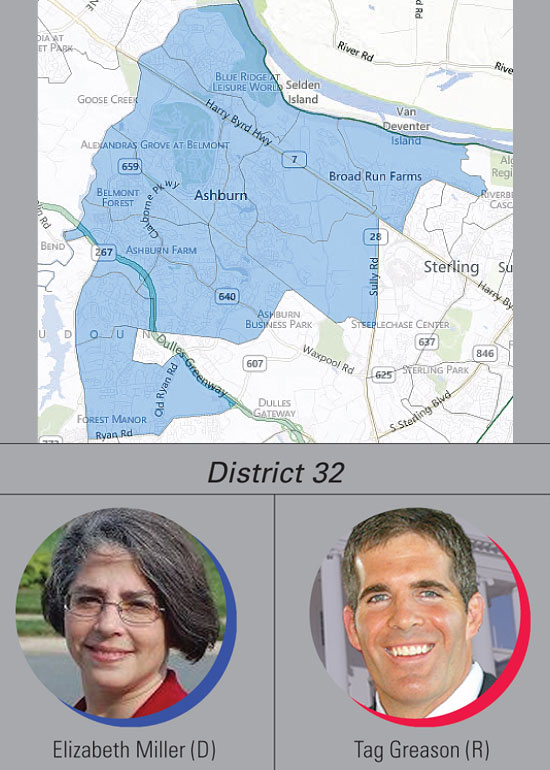 District 32: Miller, Greason
Republican Del. Tag Greason has largely avoided publicizing hot-button social issues in this Loudoun-based district since ousting Democratic Del. David Poisson in 2009. To this day, Greason remains one of only seven Republican delegates to sign Equality Virginia's nondiscrimination statement pledging not to discriminate based on sexual orientation, gender identity or expression. Unlike his fellow Delegates Yost and Rust, he has not, however, signed on as a co-patron of an employment-nondiscrimination bill. But Greason first voted with a majority of Republicans to block Thorne-Begland's nomination in 2012, before switching his vote to confirm in an election year. Facing off against Greason is Elizabeth Miller, a local blogger and Democratic activist who is married to former Loudoun County Supervisor Stevens Miller. In her Equality Virginia questionnaire, Miller supported marriage equality, two-parent adoption for same-sex couples, and employment nondiscrimination.
District 33 – Leesburg, Berryville, Winchester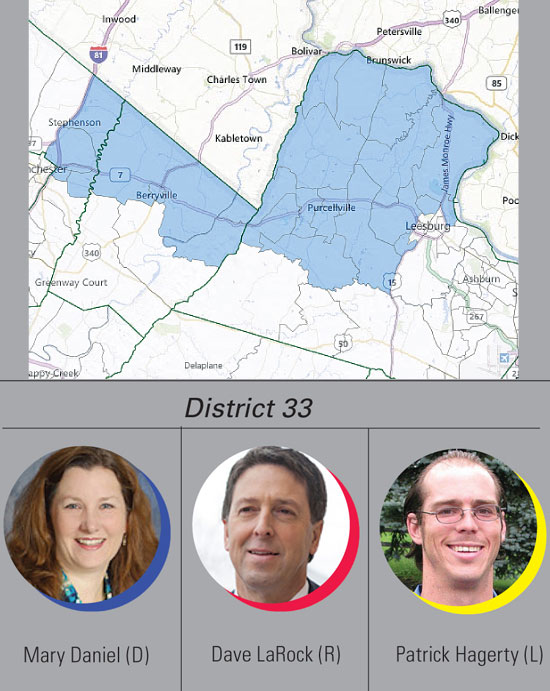 District 33: Daniel, LaRock, Hagerty
Republican Del. Joe May the former chairman of the House Transportation Committee, was considered a lock for re-election, but was defeated in the Republican primary by a Tea Party challenger, Dave LaRock, due largely in part to May's support for the General Assembly-approved transportation bill that raised taxes. Following LaRock's win, Democrat Mary Daniel jumped in the race, promoting herself as a more moderate alternative. Libertarian Patrick Hagerty is running on a platform of cutting spending, reversing the transportation-related tax increases and decriminalizing marijuana. This race could be an interesting one to watch, and could demonstrate the strength of Tea Party-backed candidates in off-year elections. None of the candidates has officially come out in support of LGBT rights.
District 47 – Arlington (Ballston, Virginia Square, Clarendon)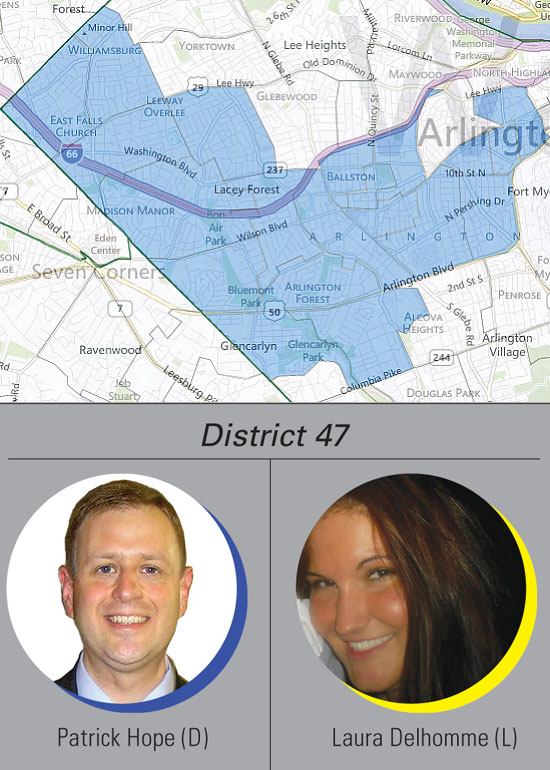 District 47: Hope, Delhomme
Democratic incumbent Del. Patrick Hope earned a 100 percent rating on the 2013 legislative scorecard for Equality Virginia Advocates, earning him the endorsement of EVPAC in the general election. But Libertarian Party nominee Laura Delhomme is also a supporter of marriage equality and told Metro Weekly that she would vote in favor of Equality Virginia's chief legislative goal: passing a bill prohibiting discrimination in public employment based on sexual orientation and gender identity. With Libertarian Robert Sarvis expected to do fairly well in the governor's race – potentially hitting double-digit support – the Hope-Delhomme race could be a gauge for any Libertarian upsurge in the state.
For more information, read the article on "Virginia's 2013 Elections."