This weekend is your last chance to see two of the biggest — and best — gay-themed plays staged in D.C. in a long time. It's also your last chance to see a community theater production of one gay-popular campy comedy.
1. The Laramie Project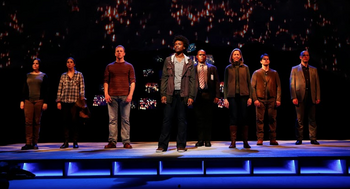 Thanks to Congressional inaction, the best known of the bunch is Ford's Theatre's production of The Laramie Project, about the antigay murder of Matthew Shepard in Laramie, Wyo., 15 years ago. A partial casualty of the government shutdown, given that the nonprofit theater company performs in a federally owned historic venue, Ford's still garnered a near-perfect rating of four-and-a-half stars (out of five) from this critic — which is especially notable given that I only saw it performed in a barebones, stage-less fashion, in the rehearsal space at the Woolly Mammoth Theatre Company. Ford's production is an incredibly enriching experience, especially in the hands of 10 fine actors, many of them Washington's most celebrated — from Mitchell Hebert to Holly Twyford to Kimberly Gilbert. Now that it's returned home, it's definitely a must-see.
Remaining shows of The Laramie Project are tonight through Saturday, Oct. 26, at 7:30 p.m., and also Saturday, Oct. 26, and Sunday, Oct. 27, at 2 p.m., at Ford's Theatre, 511 10th St. NW. All seats are $33.65 with fees. Call 800-982-2787 or visit fordstheatre.org.
2. Torch Song Trilogy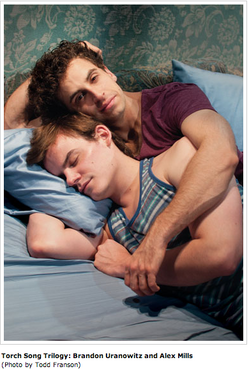 After two extensions, this week is truly your last chance to catch an equally noteworthy and outstanding production, Studio Theatre's Torch Song Trilogy. As I wrote in another near-perfect-rating review, the play that put Harvey Fierstein on the map — drawing as it does from the same drag queens-deserve-respect well as his books for the musicals La Cage Aux Folles and Kinky Boots — is still relevant, touching on issues that are still with us 30 years later, from the importance of coming out and being truthful to oneself to lingering questions over bisexuality and monogamy. Brandon Uranowitz leads the cast as Arnold, making the character, which Fierstein largely based on himself, his own. "I feel like this part allows me to explore the extreme parts of my character and parts of my personality," the New Jersey native told Metro Weekly in a cover profile last month. In what will surely be recognized come Helen Hayes Award nomination time next year, Uranowitz gives Arnold very comic, exaggerated mannerisms and moves, adding another level of humor through his body language to the already funny script.
Remaining shows of Torch Song Trilogy are tonight through Saturday, Oct. 26, at 7:30 p.m., and also Saturday, Oct. 26, and Sunday, Oct. 27, at 2 p.m., at Studio Theatre, 1501 14th St. NW. Tickets are $39 to $85. Call 202-332-3300 or visit studiotheatre.org.
3. Sordid Lives
Lastly, Arlington's Dominion Stage is responsible for the community camp, with its production of Del Shores's Sordid Lives, the "black comedy about white trash" that inspired the indie film and the ill-fated LOGO TV series. Rick Hayes directs a volunteer cast including Jeffrey Stevenson as the cross-dressing homosexual Brother Boy.
Remaining shows of Sordid Lives are tonight through Saturday, Oct. 26, at 8 p.m., at Gunston Arts Center, 2700 South Lang St., Arlington. Tickets are $20. Call 571-DS-SHOWS or visit dominionstage.org.