Michael Ian Hodges, you might say, was going berserk.
"They don't have to bring in these higher-priced DJs and party promoters," Hodges says, referring to a popular nationally touring dance part which stopped at Cobalt a couple times in the past year. "We want something in our own city, and we want to build a brand and have a fun party once a month for everybody."
So Hodges has taken matters into his own hands and has teamed up with DJ Dean Douglas Sullivan to give it to us now, in fact. This Saturday, Oct. 12, Cobalt will christen the duo's new monthly dance party: Bearzerk.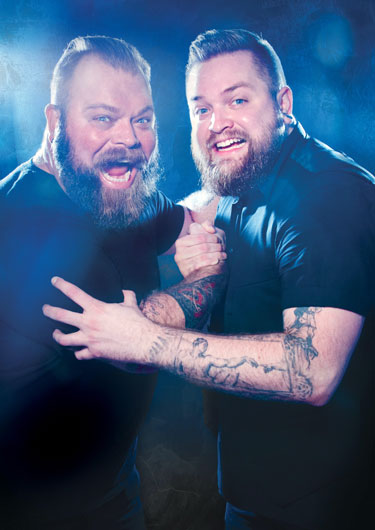 Bearzerk
(Photo by Julian Vankim)
"It's not just a bear party, though we do hang out in that group," Hodges explains. "Our tagline is: It's a party for all party animals."
"The whole thing with using the term 'bear' is the notation to things being alternative," says Sullivan, who serves as the party's main DJ. For the debut event he'll share spinning duties upstairs with DJ Tommy Cornelis (Velvet Lounge's The NeedlExchange), while Cornelis will also spin downstairs with DJ Kwasi. The musical focus isn't alternative in the manner of Gay/Bash, the monthly alt/punk-styled, drag-oriented party that Sullivan spins at the Black Cat with DJ Joshua Vogelsong.
But Bearzerk veers from a typical gay night out: a lot of underground house, little in the way of mainstream dance or EDM. "We're not going to be playing a lot of Britney Spears or anything like that," says Sullivan. "You probably won't even hear a single pop song the whole night."
Bearzerk is actually the second monthly party that Hodges and Sullivan have created. It follows DILF at Number Nine, which launched, appropriately enough, on Father's Day. "It started getting so good," Hodges says, "they took it off Sundays and put it on Saturday night." DILF is now held the second Saturday of each month. Hodges and Sullivan also work together by day at the Logan 14 Aveda Lifestyle Salon-Spa, which Hodges owns. "We drive each other crazy every once in a while," concedes Sullivan, a manager at the salon, "[but] we've gotten into a really good groove."
Chances are it won't be the last we hear from them, either. "I've been testing the waters because I'd like to have a bar someday," says Hodges, a 26-year resident of D.C. "I think there's a need for a place where everyone feels comfortable without having a niche. I think there are too many niches."
Bearzerk is Saturday, Oct. 12, at 10 p.m., at Cobalt, 1639 R St. NW. Cover is $5 before midnight, $7 after. Call 202-232-4416 or visit cobaltdc.com and facebook.com/bearzerk.