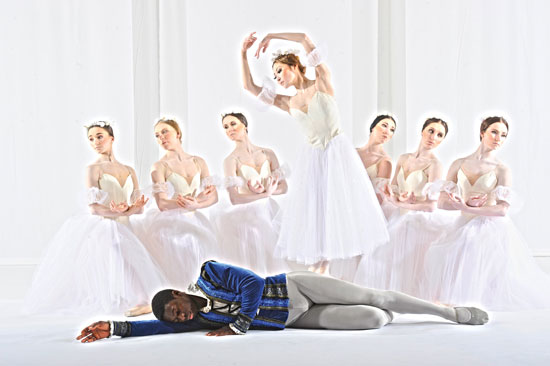 Giselle
(Photo by Steve Vaccariello)
"Men in tights." Septime Webre laughs after he says that, the first thing that springs to mind when asked what's gay about The Washington Ballet's production of Giselle. But Webre is not, in fact, kidding. As the company's artistic director, Webre has actually increased the ballet's homoerotic appeal.
"It was created at a time when men were very much in the background in ballet, and they didn't dance very much," he explains about Giselle, first produced in Paris in 1841. But Webre has tweaked the ballet, in part, to better showcase his company's strengths. "We've got this amazingly strong cadre of male dancers," he says. "So we beefed up the dancing for the men in Act 1." The Washington Ballet's production also features four casts rotating in the principal roles.
Giselle centers on the dramatic tale of a weak-hearted young dancer who dies after learning that the man she loves is engaged to another. In the second act, the title character comes back from the dead and cavorts with men-killing "vampire women" called the Wilis. "There's a whole other-worldliness and gothic aspect to Giselle that's really timely right now," Webre says.
Giselle was the first traditional ballet Webre presented with The Washington Ballet. "It's a kind of return to home base," says Webre, adding that it's only a temporary return. After the holiday run of The Nutcracker, the company offers the mixed dance programs The Jazz/Blues Project and British Invasion: The Beatles & The Rolling Stones.
Says Webre: "In the winter and spring, we return to a sense of adventure."
The Washington Ballet's Giselle runs through Sunday, Nov. 3, at the Kennedy Center Eisenhower Theater. Tickets are $25 to $125. Call 202-467-4600 or visit kennedy-center.org.